Samsung BESPOKE 4-Door Upper Panel - RA-F18DU431/AA
Samsung Bespoke 4-Door Upper Panel - RA-F18DU4P0/AA
Samsung Bespoke 4-Door Upper Panel - RA-F18DU4QG/AA
Samsung Bespoke 4-Door Upper Panel - RA-F18DU4CM/AA
Samsung BESPOKE 4-Door Upper Panel - RA-F18DU431/AA
Samsung Bespoke 4-Door Upper Panel - RA-F18DU4CH/AA
Samsung Bespoke 4-Door Upper Panel - RA-F18DU433/AA
Samsung Bespoke 4-Door Upper Panel - RA-F18DU412/AA
Samsung Bespoke 4-Door Upper Panel - RA-F18DU4C0/AA
Samsung Bespoke 4-Door Upper Panel - RA-F18DU4QN/AA
Samsung Bespoke 4-Door Upper Panel - RA-F18DU4MT/AA
Samsung Bespoke 4-Door Upper Panel - RA-F18DU4QL/AA

Samsung BESPOKE 4-Door Upper Panel - RA-F18DU431/AA
RA-F18DU431/AA
$119.99
Use with all compatible BESPOKE 4D Models

Choose your colours
Bring your personal style to the kitchen — and beyond. Available in 11 colours and 3 finishes, you can customize your dream BESPOKE 4-Door French Door refrigerator using our Bespoke configurator.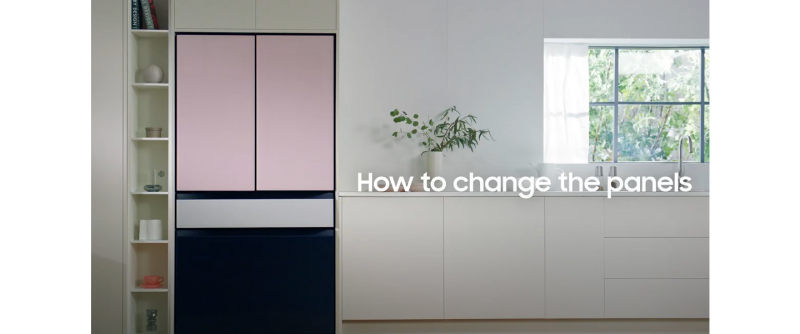 How to install BESPOKE 4-Door french door refrigerator panels
Reviews
Average Customer Ratings
| | | |
| --- | --- | --- |
| Overall | | 4.00 |
| Design | | 5.00 |
| Features | | 5.00 |
| Performance | | 5.00 |
| Value of Product | | 5.00 |
Submitted 9 months ago
By ECrew
From Ballston Spa, NY
Reviewed at


4
Bespoke 29c ft refrigerator is amazing!
Thank you Samsung, for making a beautiful refrigerator that's actually big enough to hold food for a full house. The middle fridge drawer is great for drinks and snacks. The beverage center hides the water dispenser, which no matter how much you clean will suffer water stains and look bad. The bespoke glass panels are so sleek and finally end my battle with not wanting refrigerator doors crowded with papers and magnets! A perfect pairing of function and fashion. Only took 1 star off for to problems with delivery company, between canceled first delivery and delivery guys not being very careful installing, which was unfortunate.
Bottom Line Yes, I would recommend to a friend