36" Samsung 24 Cu. Ft. Bespoke French Door Counter Depth Refrigerator - F-RF24BB623131
36" Samsung 24 Cu. Ft. Bespoke French Door Counter Depth Refrigerator - F-RF24BB62QGQG
36" Samsung 24 Cu. Ft. Bespoke French Door Counter Depth Refrigerator - F-RF24BB62QNQN
36" Samsung 24 Cu. Ft. Bespoke French Door Counter Depth Refrigerator - F-RF24BB621212
36" Samsung 24 Cu. Ft. Bespoke French Door Counter Depth Refrigerator - F-RF24BB62MTMT
36" Samsung 24 Cu. Ft. Bespoke French Door Counter Depth Refrigerator - F-RF24BB623131
36" Samsung 24 Cu. Ft. Bespoke French Door Counter Depth Refrigerator - F-RF24BB623333

36" Samsung 24 Cu. Ft. Bespoke French Door Counter Depth Refrigerator - F-RF24BB623131
F-RF24BB623131
Designed for you, by you
A stylishly unique design
Ice your way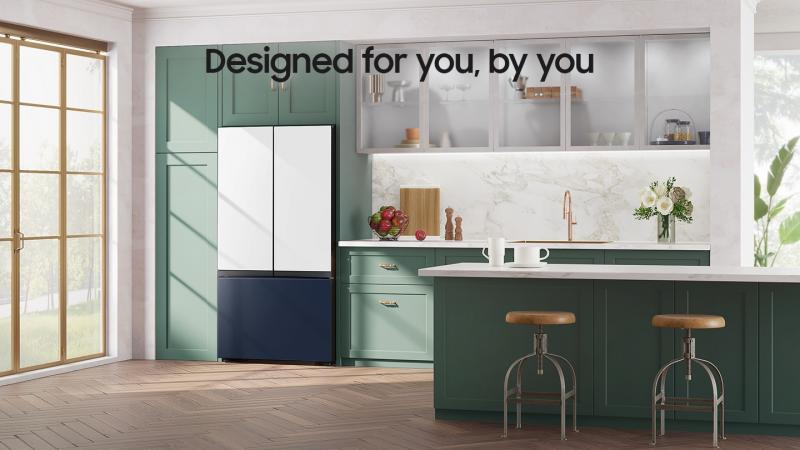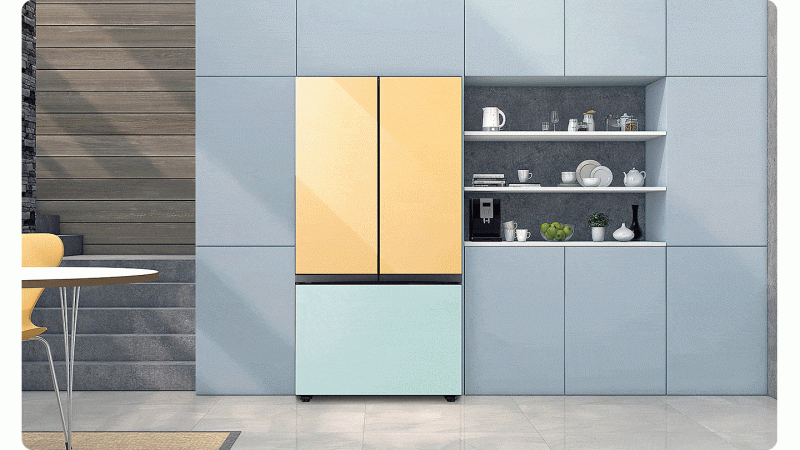 A stylishly unique design
Bespoke-Customizable Design
Create a beautifully stylish and unique kitchen space with a customizable design. It is available in a choice of 2 finishes: a premium steel, a stylish glass. And you can combine these with various door colors to suit your personal taste.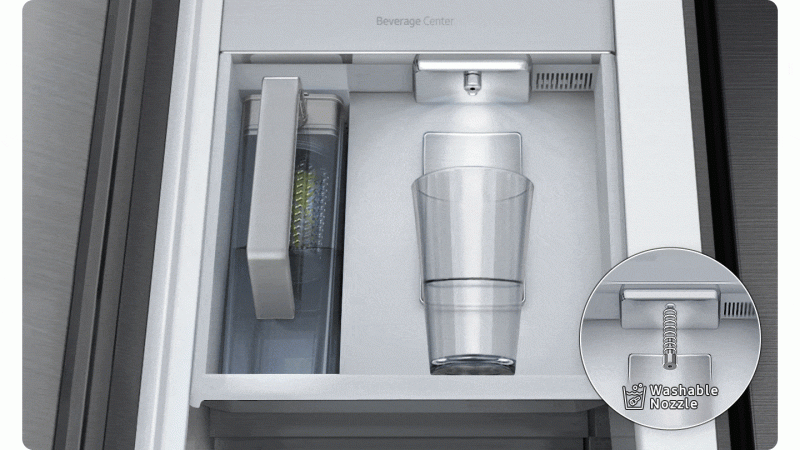 Water two ways
Beverage Center (*Optional)
Enjoy easy access to refreshingly cold and flavored water. The Beverage Center inside the fridge is easily accessible, but stays more hygienic. It has a dishwasher safe** and BPA free*** Autofill Pitcher for purified water, which can be infused with fruits or herbs, so it's always ready to serve.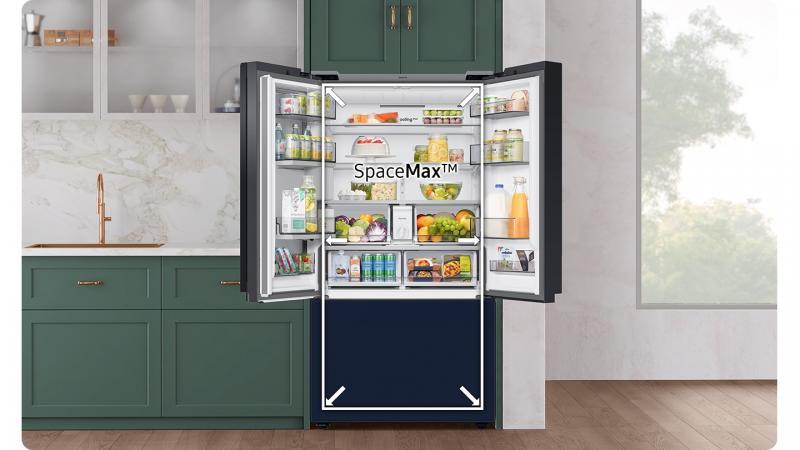 More space for food
Large Capacity
Store much more food, much more neatly – so it's quick and easy to put in, find and take out. There is plenty of room in the fridge and freezer to store all your weekly grocery shopping. It makes it much easier to keep everything efficiently organized.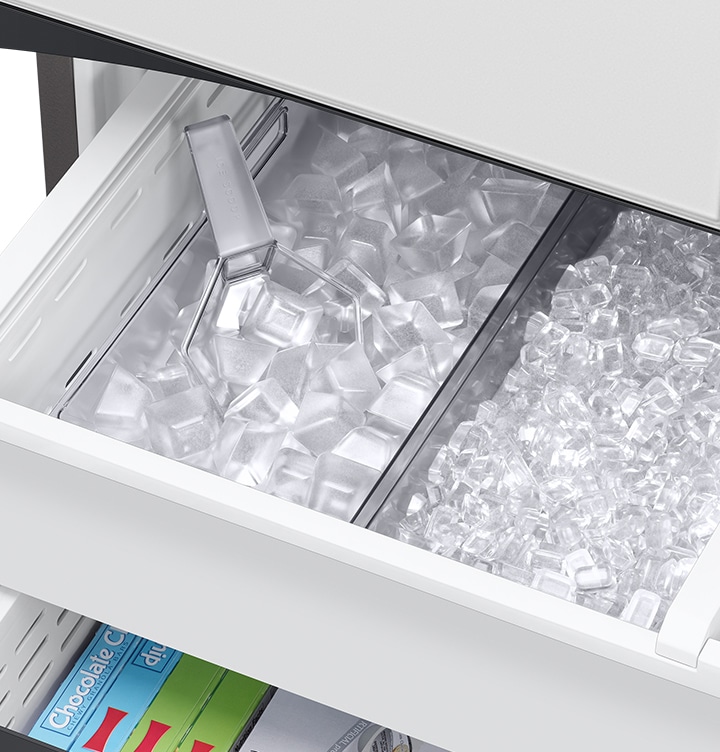 Ice your way
Dual Auto Ice Maker
Make sure you are always prepared for any occasion with two different types of ice. The Dual Auto Ice Maker makes both Cubed Ice and Ice Bites, which chill drinks much faster. It can make 5.3lbs of ice a day and store up to 9.9lbs*. And, as it's in the freezer, it frees-up space in the fridge.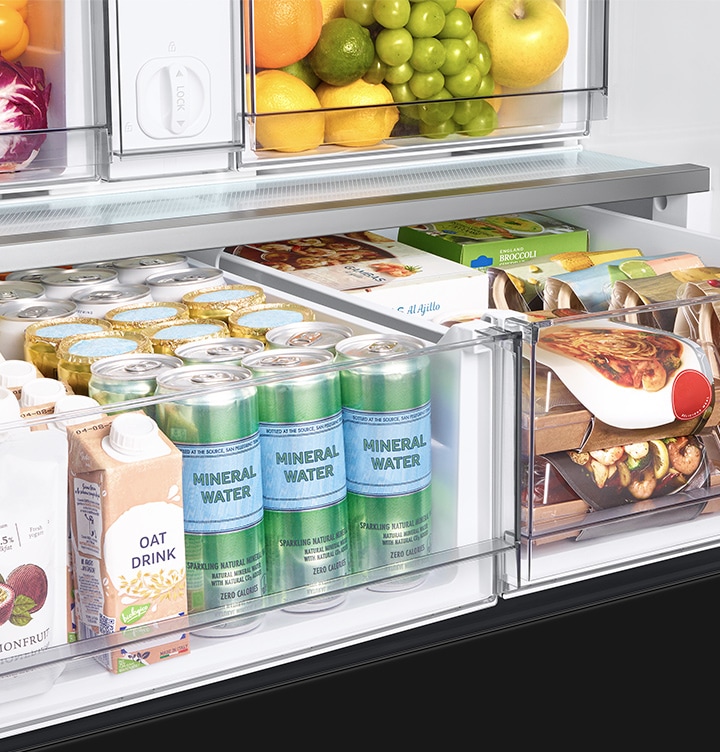 Store more meat & fish more effectively
New Big Pantry
Take special care of delicate foods. The New Big Pantry is a separate drawer that lets you store much more meat, poultry and fish, including large-sized items. You can also store various types of packaged items, like pre-prepared food, MHR and meal kits. Even drinks cans can be stored upright.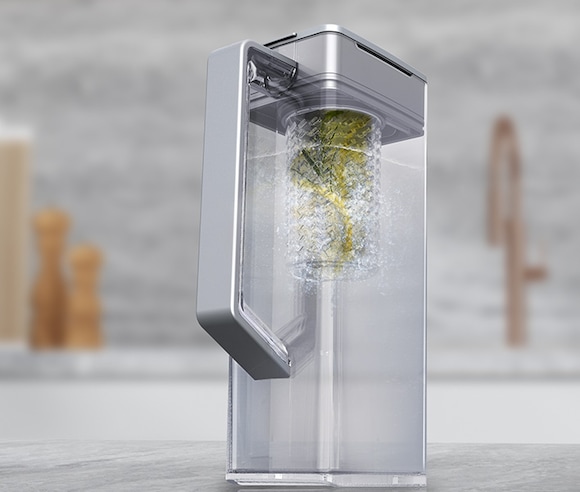 Always chilled water
Autofill Pitcher
Enjoy refreshingly cold and flavored water immediately. The dishwasher safe* and BPA free** 1.4L (48oz) Autofill Water Pitcher automatically fills with purified water when put in the fridge. Using a built-in Infuser***, you can also add fruits or herbs to create deliciously flavored beverages.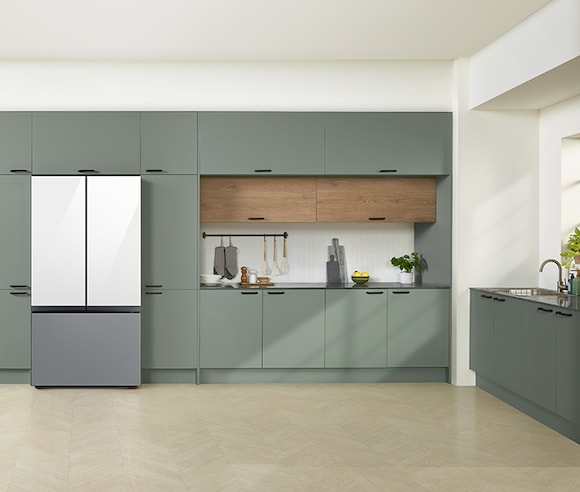 Seamlessly stylish
Built-in Look
Give your home a stylishly simple and sleek appearance. Its minimalist design is both neat and modern, but won't look out of place with existing appliances and cabinets. It has beautiful flat doors with no external water dispenser and recessed handles, which don't protrude and get in the way.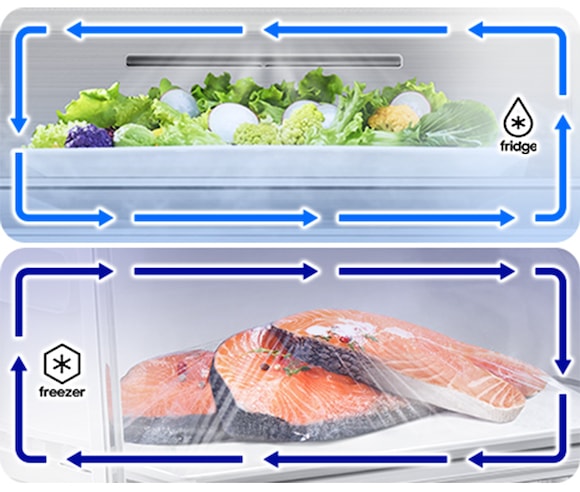 Moist freshness with independent cooling
Twin Cooling Plus™
Twin Cooling Plus™ optimizes the temperature and humidity in the fridge and freezer using independent cooling in each compartment. It preserves fruits and vegetables in the best conditions and protects its natural flavor by preventing odors from mixing.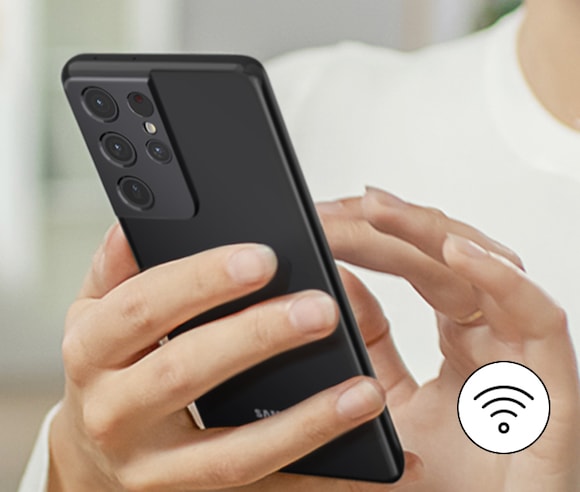 Easy remote control anytime, anywhere
Wi-fi Embedded
Monitor and manage the refrigerator's performance anytime, anywhere using its embedded Wi-Fi and the SmartThings App*. You can control the Rapid Cooling modes, change the temperature and get alerts if the door is left open. You can also monitor its energy consumption and diagnose any issues.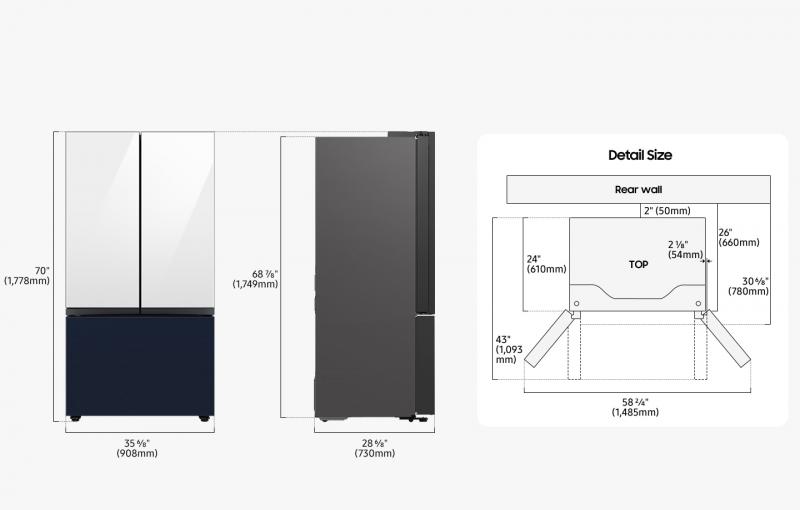 How to measure
Cooling Feature
No Frost
Yes
Multi Flow
Yes
Cooling Type
Twin cooling
Refrigerator Feature
Number of Shelf (Total)
4 EA
Gallon Door Storage
2 EA
Shelf Material
Tempered Glass
Number of Vegetable&Fruit Drawer
2 EA
Number of Door Pocket
8 EA
Capacity
Total Capacity
24
Net for Freezer (cu.ft)
6.8
Specifications
Filter by Category
French Door Refrigerators
Physical specifications & size
20/40/40H (Container)
14(20ft) / 30(40ft)
Packing Weight (kg)
134
Net Weight (kg)
124
Packing Dimension (WxHxD)(inch)
38 1/4 x 76 3/4 x 30 5/8
Net Depth without Door (inch)
24
Net Depth without Door Handle (inch)
28.75
Net Depth with Door Handle (inch)
28.75
Net Case Height without Hinge (inch)
68.875
Net Case Height with Hinge (inch)
70
Net Width (inch)
35.75
Net Dimension (WxHxD)(inch)
35 6/8 x 70 x 28 6/8
Capacity
Net for Fridge (cu.ft)
17.2
Freezer Feature
Interior LED Light
Yes
Drawer Type
2 Tier
Refrigerator Feature
Big Pantry
2 EA
Autofill Water Pitcher
Yes
Interior LED Light
Yes
Power Cool Function
Yes
Freezer Feature
Dual Ice Maker
1 EA
Power Freeze Function
Yes
Ice Making Capacity per Day (Ice Bites)
3.1 lb
Ice Storage (Cubed Ice)
3.1 lb
Ice Making Capacity per Day (Cubed Ice)
3.1 lb
Ice Scoop
1 EA
Ice Storage (Ice Bites)
3.7 lb
General Feature
Door Alarm
Yes
Freezer Feature
Easy Open Handle
Yes
General Feature
Refrigerant
R600a
Exterior Feature
Door Type
Bespoke
Door Handle
Recessed
Energy
Energy Star
Yes
Performance
Energy Consumption
630 kWh/year
Exterior Feature
Colour
No Panels
Installation
Counter Depth
Yes
Smart
WiFi Embedded
Yes