27" Samsung 5.8 Cu. Ft. Smart Front Load Washer With Super Speed In Black Stainless Steel - WF50T8500AV
Read Reviews 1.67 (9)
Write a review

Or as low as $200.00/month over 9 months. Apply Now

27" Samsung 5.8 Cu. Ft. Smart Front Load Washer With Super Speed In Black Stainless Steel - WF50T8500AV
WF50T8500AV/A5
$1,799.99
Literature
5.8 cu.ft. extra large capacity
Wash a full load in 30 minutes with SuperSpeed
Bixby enabled Wi-Fi embedded smart appliance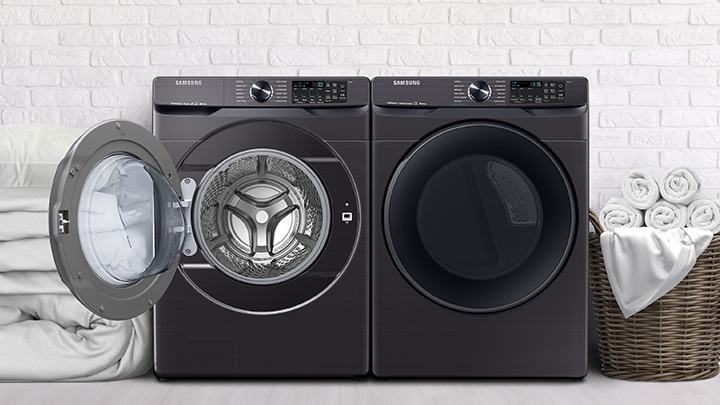 Fit More for Fewer Loads
Large Capacity (5.8 cu. ft.)
Our large capacity, 5.8 cubic feet drum means you can wash more items in a single load and spend more time doing the things you love.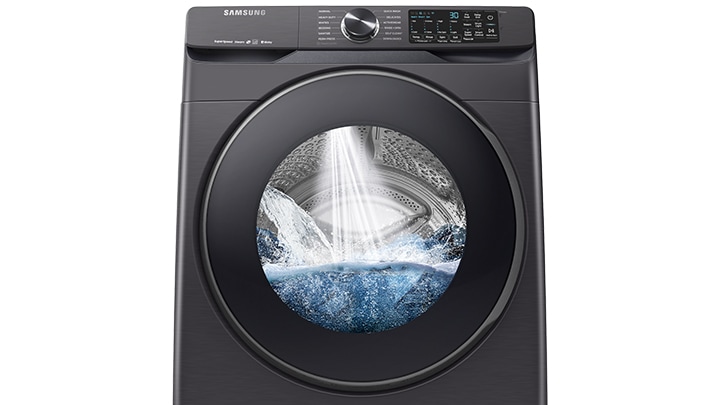 Wash in 30 minutes
Super Speed
Wash a full load of laundry in 30 minutes*, without sacrificing cleaning performance.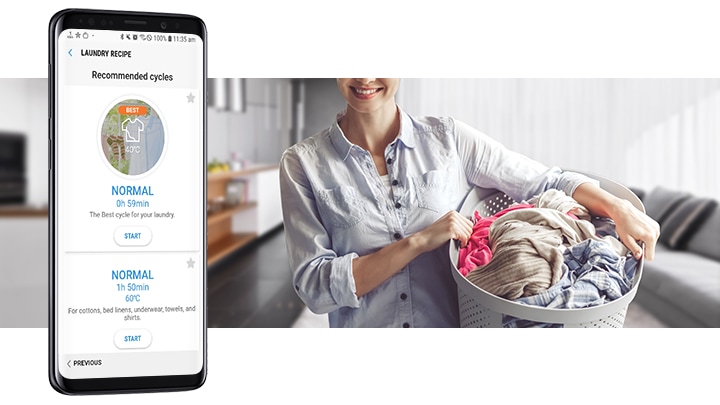 AI-powered laundry care
Bixby
Now you can take care of laundry day away from home or from the comfort of your couch. With Bixby Enabled Wi-Fi Connectivity, this washer allows you to remotely start or stop your cycle, schedule laundry on your time, receive end of cycle alerts, and more right from your smartphone*.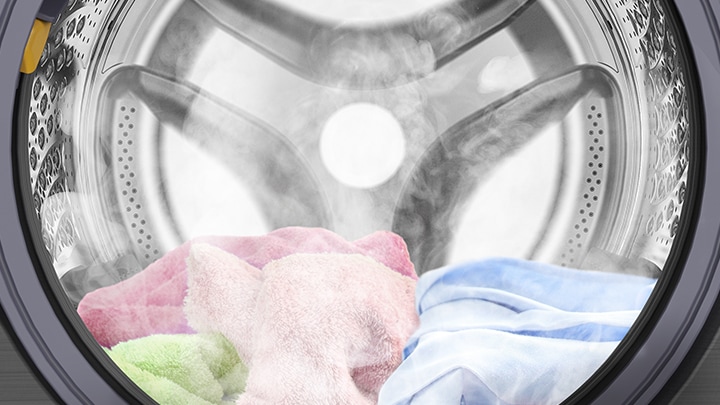 Gently Remove Stains
Steam
The power of steam lets you gently remove stains without any time-consuming pretreatments. Steam is released from the drum so every item in the load is thoroughly saturated, ensuring a deep clean.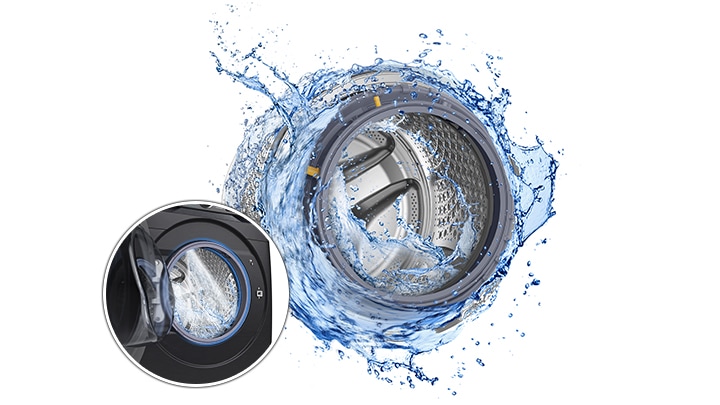 Keep the washer fresh
Self Clean+
Keep your washer fresh and clean with Self Clean+ technology, which eliminates 99% of bacteria* that can form in any washer drum. Self Clean+ will notify you every forty wash cycles when it is time for a cleaning.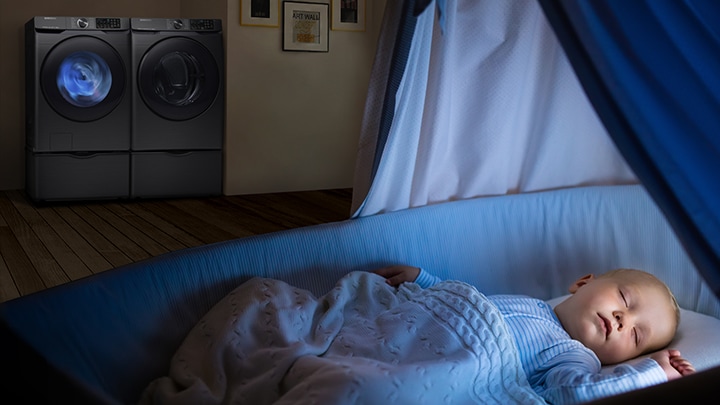 Peaceful washing
VRT Plus
Innovative VRT Plus technology reduces noise and vibration for quiet washing.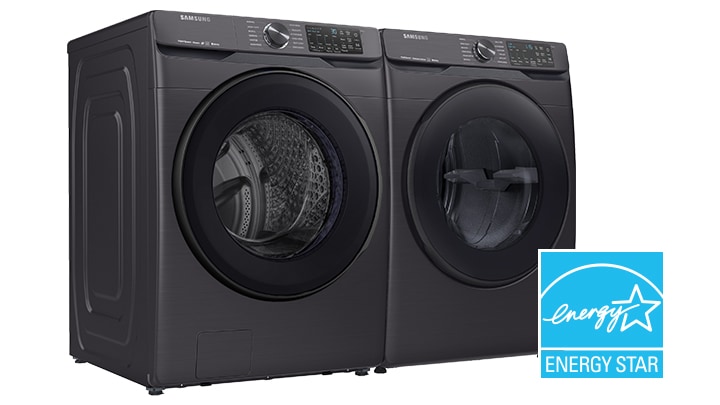 ENERGY STAR certified
ENERGY STAR Certified
ENERGY STAR certified, so you can save money by using less energy without sacrificing performance or functionality.
Easy troubleshooting
Smart Care
Easy troubleshooting from the convenience of your smartphone*. Smart Care interacts with your washer and dryer to perform an immediate diagnosis and offer quick solutions.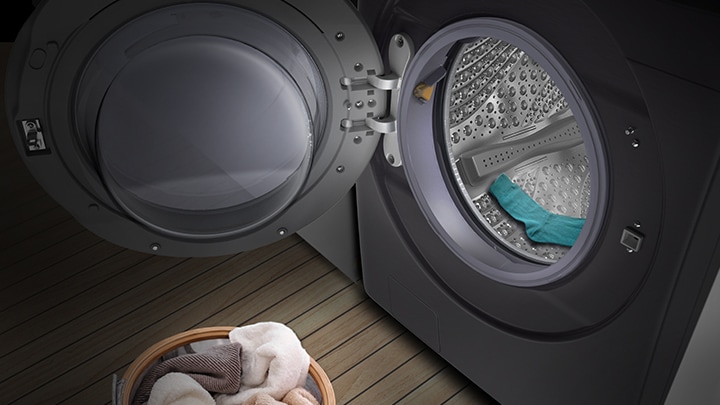 Convenientlight
Drum light
Put and end to losing those stray socks and hard-to-spot smaller laundry items with the interior drum light.
Washing Capacity
Washing Capacity (cu.ft)
5.8 cu.ft. (I.E.C.) / 5.0 cu.ft. (D.O.E.)
Design
Body color
Black Stainless
Door
New tint
Panel Display
LED
Performance
Cycle time (min)
45 min
Energy Star Certification
Yes
Energy Consumption (annual)
110
IMEF
2.92
IWF
2.9
Feature
Child Lock
Yes
Delay End
Yes
Drum type
Swirl
Interior Drum Light
Yes
Internal Heater
Yes
Motor
DD
Number of Soil Level
5 EA
Number of Spin Level
5 EA
Number of Temp. Level
5 EA
Progress Indicator
Yes
Self Clean+
Yes
Smart Care
Yes
Smart Control
Yes
Spin Speed
1200 rpm
Steam
Yes
Super Speed
Yes
VRT
VRT+
Cycle
Cycle List
Normal, Heavy Duty, Whites, Bedding, Sanitize, Perm Press, Quick Wash, Delicates, Active Wear, Rinse+Spin, Self Clean+, Downloaded
Number of Cycle
12
Number of Option
10
Option List
Pre Soak, Delay End, Steam, Drum Light, Super Speed, Smart Control, Child Lock (Dual Long Key), Spin Only (Long Key), Smart Care (Long Key), Alarm Off (Long Key)
Physical specification
Net Dimension (WxHxD)
27 x 33.5 x 38.7 inch
Net Weight
205 lb
Gross Dimension (WxHxD)
29.4 x 35.4 x 42.4 inch
Gross Weight
209 lb
Voltage/Frequency
120V / 60Hz
Reviews
Average Customer Ratings
| | | |
| --- | --- | --- |
| Overall | | 1.67 |
| Design | | 2.00 |
| Features | | 3.11 |
| Performance | | 2.00 |
| Value of Product | | 1.78 |
Cons
Poor quality, Did not meet expectations
Poor quality, Did not meet expectations
Poor quality, Did not meet expectations
Poor quality
Poor quality, Did not meet expectations
Poor quality, Did not meet expectations
Submitted 9 months ago
By SJafree
Reviewed at


1
Didn't work from first day
Bought this model and it didn't work from the very first load. I was told by manufacturer that their manufacture warranty doesn't cover replacement of washer. Very disappointing.
Bottom Line No, I would not recommend to a friend
Submitted 10 months ago
By Migs
Reviewed at


1
Very disappointed with the poor quality
I was so surprised that Samsung makes this very low quality machine and dryer They both had very bad material crack in the door and the top I called and no help from customers service The machine keeps cracking
Bottom Line No, I would not recommend to a friend
Submitted 11 months ago
By NotImpressedAtAll
Reviewed at


1
Worst experience ever buying washer and dryer
We purchased this washer and dryer from a big box store on March 25th. It was delivered on the 29th. We used it for one week before the door would not lock and the washer would not start. We called on the 8th of April for a repair and told them specifically that the DC-1 code came up and the door would not lock. Repair person came on April 13th. He came in, tried to get it to work, said it's the door lock. Needs replacing but - he doesn't have a part with him. Apparently they are on back order. No idea when we will get one. No one from Samsung has reached out to say when will get a repair. It is ridiculous that a BRAND NEW washer would stop working after 1 week (4 loads of laundry) and NO ONE can tell us when it will work. DO NOT BUY.
Bottom Line No, I would not recommend to a friend
Submitted a year ago
By 3Goldie
Reviewed at


I bought my laundry pair approx 4 years ago and am so disappointed. My washer has orange residue from softer holder - possible rusting screw..: no one seems to know and although we vacuum lint trap on a regular basis… still had a lint fire. Dryer is designed with lint trap just above motor. Lint continues to roll off lint collector to motor. I have had numerous appliance maintenance professionals to my home with no answers. I'm in constant fear of a house fire. I am getting rid of both as soon as I can afford another set.
Bottom Line No, I would not recommend to a friend
Submitted a year ago
By M.R.
Reviewed at


Purchased the washer/dryer from The Brick. First time using the washer it started leaking from the front of the unit right above the door and right below the dispenser and dryer wasn't working due to improper installation. Got the unit exchanged and had the same issue again leaking in pretty much the same exact spot. Between trying to deal with The Brick's poor customer service and this over priced faulty washer its been a bit stressful. Will return these products and opt out for a different brand.
Bottom Line No, I would not recommend to a friend
Submitted a year ago
By New set rocks
Reviewed at


I bought this set two days ago. Only two minor complaints: washing machine cord very short, would be find if you lived in a modern home where you maybe stacking these, but for a older home, it is a challenge. The packing bolts; extremely confusing instructions given. You have a very long screw which you assume is the bolt, but in fact you have to pull the bolt out after removing the screw. If your little black cover does not fit in the hole, you still have a bolt to remove.
Bottom Line Yes, I would recommend to a friend
Submitted a year ago
By Happyharry
Reviewed at


3
Worked great until it didn't
We bought the Samsung washer and dryer mid 2019 and I must say they work great, very efficient and quiet. A week ago the drum all of a sudden doesn't turn and is totally seized, a local repair guy who works on Samsung washer tells us after examining the machine that one of the arm of the spider rack in the back of the inner drum is broken and the drum and needs to be replaced cost between $750 and $ 800. He tells us that he has seen this happen before but not on machines just over a year old which also means that the warranty has just expired. Like the machines not the way Samsung backs their product.
Submitted a year ago
By Kirk A
Reviewed at


Drum doesn't clean with self clean and stinks. Front Door Seal leaks and is falling apart. Fills with water 3/4 all the time and does not finish wash. Need to unload and drain with a cloth and bucked. I will never buy Samsung appliances again. They need to stick to phones.
Bottom Line No, I would not recommend to a friend
Submitted 2 years ago
By Mary999
Reviewed at


2
Water shoots out towards the door.
When the washer releases water during a he wash cycle it shoots out in two directions - straight into the washer and also into the door going directly to the seal around the door. Is it supposed to do this?