28" Samsung 5.8 Cu. Ft. Top Load Washer With Active WaterJet In White - WA50R5200AW
Read Reviews 4.14 (97)
Write a review
81% would recommend this to a friend

Or as low as $133.33/month over 9 months. Apply Now
28" Samsung 5.8 Cu. Ft. Top Load Washer With Active WaterJet In White - WA50R5200AW
WA50R5200AW/US
$1,199.99
Literature
Large 5.8 Cu.Ft. Capacity
EZ Access Design for effortless loading and unloading
Active WaterJetTM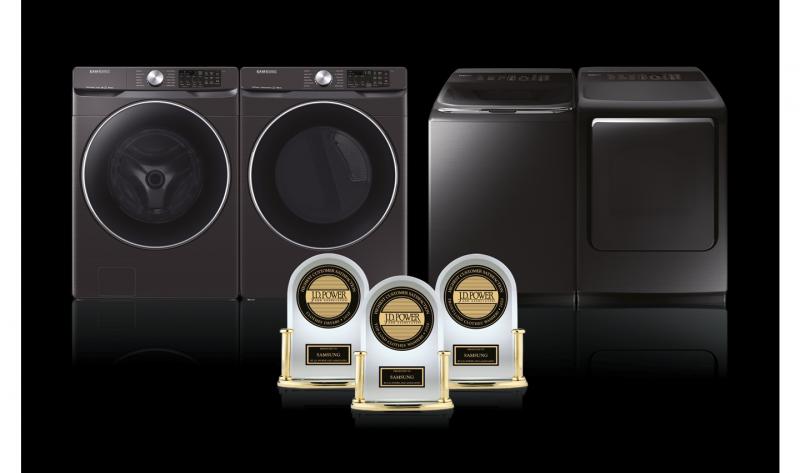 Number one in Customer Satisfaction
JD Power Award 2020
#1 Highest in Customer Satisfaction with Top-Load Clothes Washers in the U.S., 2 Years in a Row. Samsung has received more J.D. Power Awards for Kitchen and Laundry Appliances than any other manufacturer in 2020.
Reach Items Effortlessly
EZ Access Tub
Our new EZ Access tub is shallower without sacrificing capacity, so you can easily reach the bottom of the washer tub to remove clothes after the cycle finishes.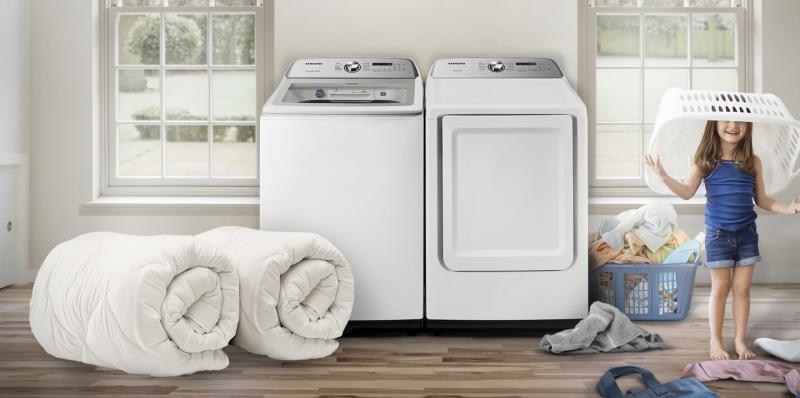 Fit more in fewer loads
Large 5.8 cu.ft. Capacity
The 5.8 cu.ft. extra large capacity means fewer loads and less time in the laundry room. So you can spend more time doing the things you love.
Pretreat with the Push of a Button
Active WaterJet
A built-in water faucet lets you easily pretreat soiled or heavily stained clothes with a press of a button. Scrub items right inside your washer, no laundry room sink needed.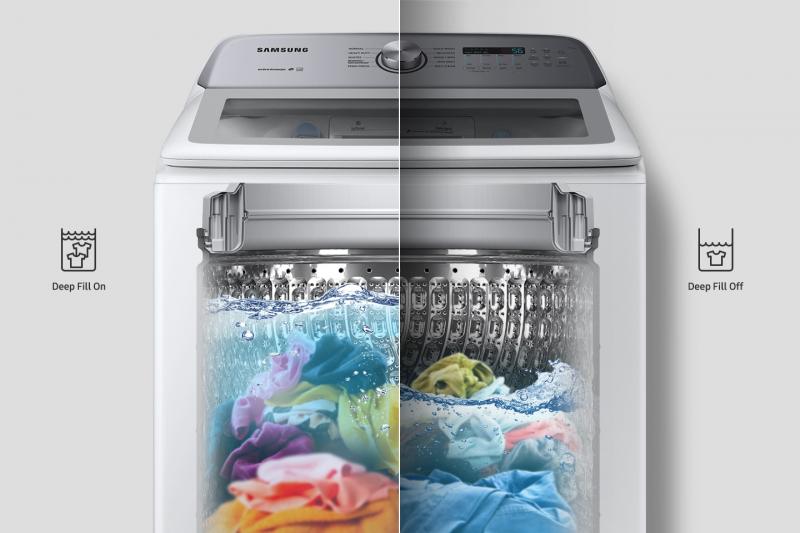 Extra water when you need it most
Deep Fill
Maximize the water level used during your washing cycle by selecting the Deep Fill option* before starting your laundry. Deep Fill automatically adds extra water at the right time to ensure that all your items are thoroughly soaked.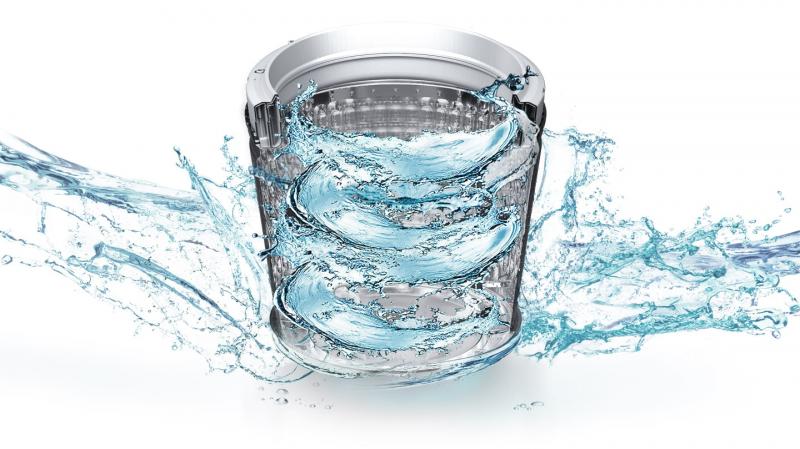 Keep your washer fresh and clean
Self Clean
Keep your washer fresh and clean with Self Clean technology. Self Clean will notify you every twenty wash cycles when it is time for a cleaning.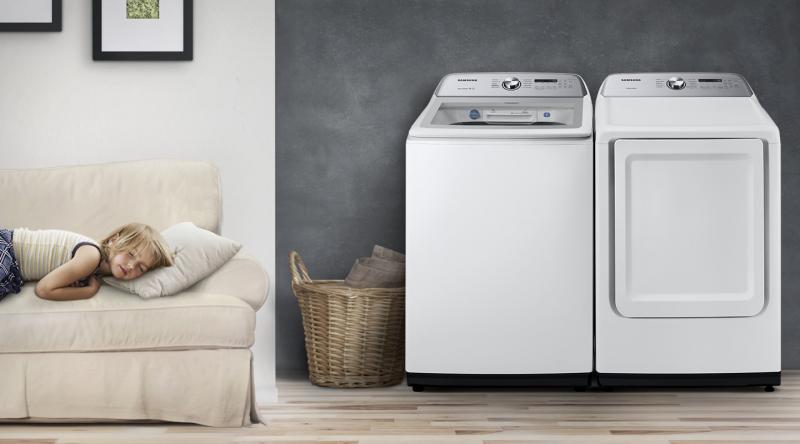 Quiet washing
VRT Plus™
The Vibration Reduction Technology PlusTM reduces noise and vibration for quiet washing.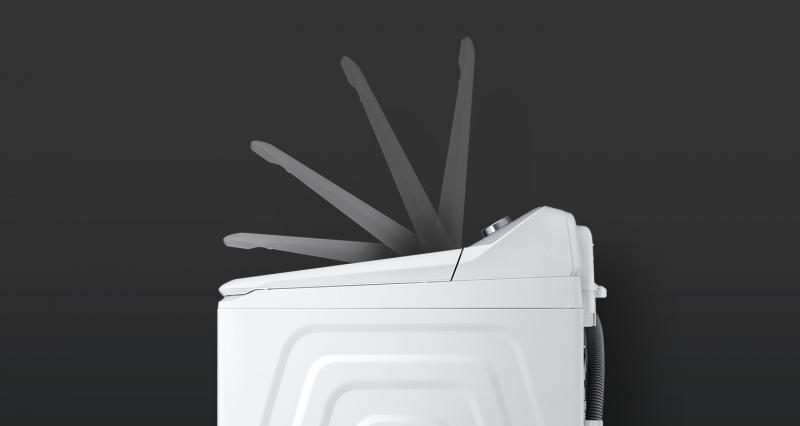 Closes quietly
Soft Close Lid
The premium Soft-Close Lid closes safely, gently and quietly.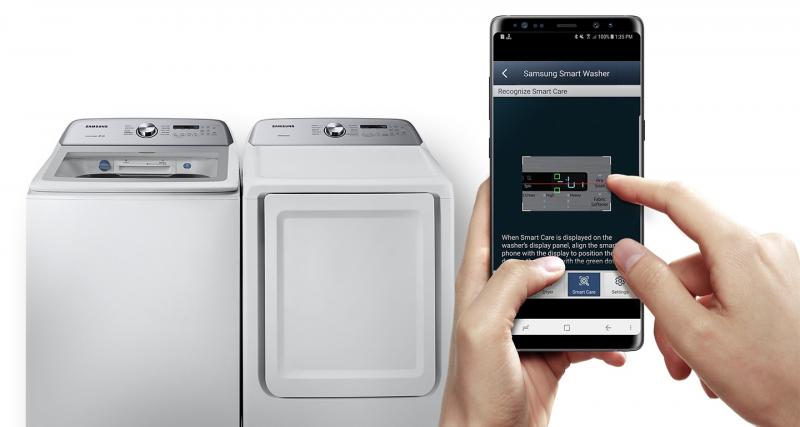 Easy to troubleshoot
Smart Care
Easy troubleshooting from the convenience of your smartphone.* Smart Care interacts with your washer and dryer to perform an immediate diagnosis and offer quick solutions.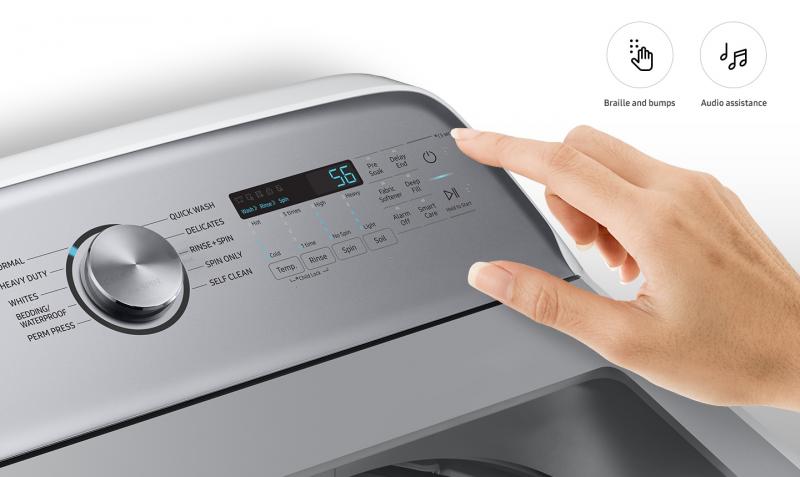 Hear & feel controls
Accessibility
Find the right controls easily even if you are visually impaired. The control panel provides audio assistance by playing a different sound for each option. It also has Braille and bumps next to the various control buttons to indicate exactly what they are.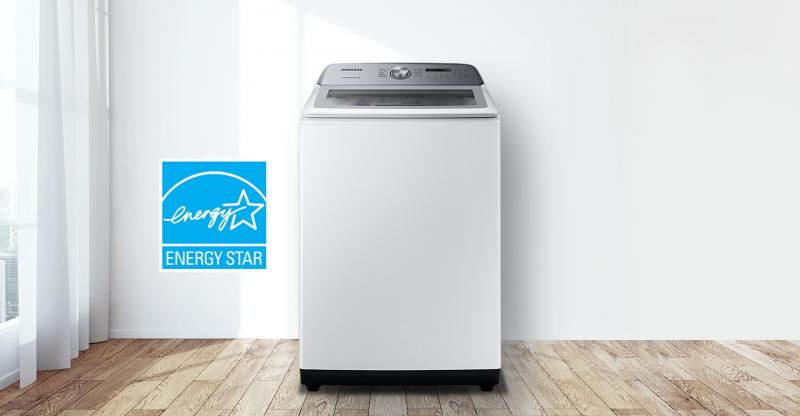 ENERGY STAR® certified
Energy Star Certified
ENERGY STAR® certified, so you can save money by using less energy without sacrificing performance or functionality.
Physical specification
Voltage/Frequency
120V / 60Hz
Gross Weight
141.1 lb
Gross Dimension (WxHxD)
30.1 x 46.9 x 31.2 inch
Net Weight
132.3 lb
Net Dimension (WxHxD)
27.5 x 44.6 x 29.4 inch
Cycle
Number of Option
7
Option List
Pre Soak, Delay End, Fabric Softner, Deep Fill, Alarm Off, Smart Care, Child Lock (Dual Long Key)
Number of Cycle
10
Cycle List
Normal, Heavy Duty, Whites, Bedding/Waterproof, Perm Press, Quick Wash, Delicates, Rinse+Spin, Spin Only, Self Clean
Feature
VRT
VRT Plus
Soft Close Lid
Yes
Self Clean
Yes
Smart Care
Yes
Spin Speed
750 rpm
Super Speed
No
Progress Indicator
Yes
Number of Temp. Level
5 EA
Number of Spin Level
5 EA
Number of Soil Level
5 EA
Motor
DD
EZ Drawer
Yes
Delay End
Yes
Child Lock
Yes
Performance
IWF
4.3
IMEF
2.06
Energy Consumption (annual)
120 kWh/year
Energy Star Certification
Yes
Cycle time (min)
56 min
Design
Top Cover
Plastic
Panel Display
LED
Pulsator
PP
Washing Capacity
Washing Capacity (cu.ft)
5.8 cu.ft
Design
Body color
White
Reviews
Average Customer Ratings
| | | |
| --- | --- | --- |
| Overall | | 4.14 |
| Design | | 4.29 |
| Features | | 4.30 |
| Performance | | 4.22 |
| Value of Product | | 4.19 |
Cons
Poor quality
Poor quality, Did not meet expectations
Poor quality, Did not meet expectations
Submitted a year ago
By Sabercar
Reviewed at


Does not get clothes clean, either Costco or Samsung will stand behind this product, both of them told us too bad
Submitted a year ago
By Catarina
Reviewed at


3
Water level isn't right
The water level in the washer isn't right. I don know what to do. Please help !!
Submitted a year ago
By Consumerrast
Reviewed at


Our 40 year old rust free machine's have no replacement parts anymore so we upgraded. After two years it's showing some rust around the bleach dispenser and hinges. Poorly made.
Bottom Line No, I would not recommend to a friend
Submitted a year ago
By Unhappy_Lina
Reviewed at


1
Horrible product! Does not clean clothes
My clothes never comes out clean. If you ever wash the clothes while it is getting washed in this machine, you will see that the drum rotates back and forth a small bit and the clothes barely moves. This machine does not generate enough movement to occur amongst the clothes to remove the dirt in the clothes. I would never buy again! It's a terrible machine that wastes a lot of water and energy. I prefer the front loading machines which uses less water and actually cleans the clothes. Ever since I used this machine, I've develop rashes from the clothes because they are not properly cleaned!
Bottom Line No, I would not recommend to a friend
Submitted a year ago
By Giulia94
Reviewed at


I bought this washer not even 2 years ago and the entire top of the unit is rusted and the paint is bubbling. Customer service is not helpful at all and just stated it was cosmetic and kept reading off of a script. The inside of the tumbler is rusted as well as parts inside and on the outside. save your money with Samsung and invest it into another company with better quality products. Samsung does not care about their customers even though we have a multitude of their products. We won't be purchasing Samsung appliances again
Bottom Line No, I would not recommend to a friend
Submitted 8 months ago
By jack
From Alaska
Reviewed at


5
5.0 cu. ft. Top Load Washer
great value works good . I am happy it so far i would recommend others to purchase
Submitted 8 months ago
By Krusty
From Texas
Reviewed at


Just bought this washer, and love all the different modes I can use, from little loads to spin options.
Bottom Line Yes, I would recommend to a friend
Submitted 8 months ago
By Kell
From Boston
Reviewed at


2
Not for short people or people in a hurry
bought this for my mom who is 5'0" tall. she kept complaining she couldn't reach the clothes. so i went to see for myself, and i bought her a small step stool to help. she wasn't kidding.... i'm 5'2" and could not reach the clothes at the bottom of the drum without crushing my ribs. and the stepstool didn't help me because the opening is not wide enough to reach inside. if you're in a hurry to do your laundry in one day, forget about it! some cycles take 2 hours!! that's absurd. it's so slow. and honestly the clothes don't feel as soft or as clean as the 30 yr old washer we had prior. another comment here mentioned they washed a pillow and it was barely wet after. we experienced the same thing. such a let down. i thought i bought a nice gift for my mom.
Bottom Line No, I would not recommend to a friend
Submitted 8 months ago
By Momof2
From Elkton, Ky
Reviewed at


I bought this 6 months ago. It has lowered our water bill and my clothes are cleaner.
Bottom Line Yes, I would recommend to a friend
Submitted 8 months ago
By Sabrina
From South Carolina
Reviewed at


5
Awesome Top Load Washer
I purchased this Samsung Top Load Washer several months ago. I'm pleased with the features and how my clothes come out very clean. Love the warranty and support giving with the purchase.
Bottom Line Yes, I would recommend to a friend