Martin Logan Motion Series Speaker With Folded Motion Tweeters In White - Motion FX (W)
Martin Logan Motion Series Speaker With Folded Motion Tweeters In Black - Motion FX (B)
Martin Logan Motion Series Speaker With Folded Motion Tweeters In White - Motion FX (W)

Martin Logan Motion Series Speaker With Folded Motion Tweeters In White - Motion FX (W)
Motion FX (W)
Literature
Engineering Genius
What makes the Motion Series sound so amazing? MartinLogan's dedicated in-house engineering team started by utilizing and refining the most advanced, compact technologies and combining them with innovative engineering. The result is an emotionally engaging sound that rivals (and most times trounces) traditional loudspeakers of similar size and price.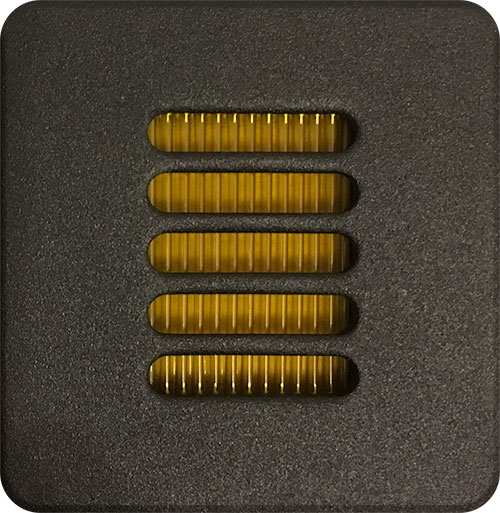 Folded Motion® Tweeters
The signature Folded Motion tweeters utilize extremely low mass diaphragms that "squeeze" air, and require significantly less excursion than the typical 1-inch dome tweeter, which drastically minimizes distortion while providing a lightning fast response time. The increased surface area also provides a wide, yet controlled sound dispersion to create a realistic and carefully etched sound stage.
Specifications
Frequency Response
70–25,000 Hz ±3dB
Recommended Amplifier Power
20—160 watts per channel
Horizontal Dispersion
160°
Vertical Dispersion
80°
Sensitivity
91 dB/2.83 volts/meter
Impedance
4 Ohms Compatible with 4, 6, or 8 Ohm rated amplifiers.
High Frequency Transducer
Two 1" × 1.4" (2.6cm × 3.6cm) Folded Motion Transducer with 5.25" × 1.75" (13.3cm × 4.4cm) diaphragm
Crossover Frequency
4500 Hz
Components
Custom air core coil inductors. Polyester film capacitors in series and low DF electrolytic capacitors in parallel. Overall system thermal/current protection.
Low Frequency Transducer
5.25" (13.3cm) paper cone with cast aluminum basket. Non-resonant asymmetrical chamber format. Rigid structured dust cap to reduce cone break-up modes. Folded bass reflex port.
Inputs
Push style with banana jacks
Weight
9.5 lbs. (4.4 kg)
Dimensions
11.1" x 12" x 6 " (28.2cm x 30.5cm x 15.2cm)