Denon Stereo Network Receiver - DRA800HBKE3

Or as low as $133.17/month over 6 months. Apply Now
Built with Hi-Fi amplification, the Denon DRA-800H stereo receiver seamlessly integrates with the latest Hi-Res audio, wireless music, voice control platforms and AV receiver technologies including five 4K Ultra HD HDMI inputs and ARC support.
Overview
The Denon DRA-800H seamlessly integrates Hi-Fi amplification, a network player and advanced AV receiver technologies. Featuring advanced custom amplifier design, the DRA-800H ensures your loudspeakers drive detailed, precise imaging through the dedicated circuitry. With five 4K Ultra HD HDMI inputs and the latest wireless music streaming technologies (Wi-Fi, AirPlay 2, Bluetooth and HEOS Built-in), the DRA-800H integrates seamlessly with your TV, game consoles, turntable, CD Player, wireless music and Hi-Fi systems.
Enjoy network streaming and USB front-panel audio playback of MP3, WAV, FLAC, ALAC and DSD (2.8/5.6MHz) files. Equipped with A/B speaker terminals (supports bi-wiring), dual subwoofer pre-outs, three digital and two analog inputs, one phono (MM) input and ARC for TV audio, the DRA-800H delivers a premium stereo listening experience for your music
By visually guiding you through each step in the setup process, the award-winning Denon Setup Assistant ensures a fast, simple onboarding. Because the acoustics of every home theater are different, the AVR-S950H features premium room calibration technology from Audyssey to automatically measure and optimize your AV receiver's performance, providing a truly immersive 3D audio experience.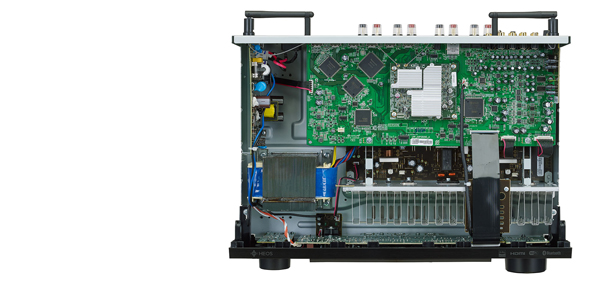 HIGH-PERFORMANCE DISCRETE 2-CHANNEL AMPLIFIER
The DRA-800H stereo network receiver amplifier is specifically designed to meet the needs of your two-channel system. Featuring a custom discrete high-current power amplifier, symmetrical design and an OFC (oxygen-free copper) winding power transformer, the DRA-800H delivers maximum performance and 100W of power per channel (8ohms, 20Hz-20kHz, THD: .08%, 2ch driven). With low impedance drive capability, it offers greater stability with a wide range of floor-standing and bookshelf loudspeakers for balanced, quality sound, every time. Optional auto ECO mode helps reduce power consumption, without sacrificing audio quality.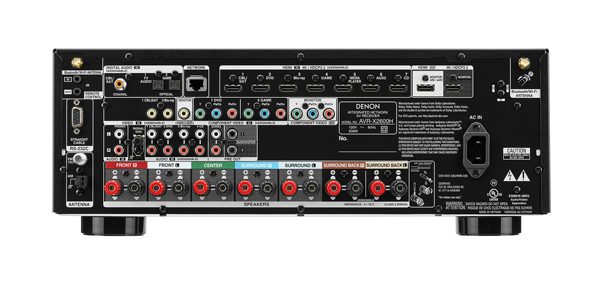 EXPERT SOUND ENGINEERING
Denon sound engineers use carefully selected Hi-Fi parts, including custom resistors and audio grade capacitors, to tune the stereo receiver. Using the design principles found in Denon award-winning amplifiers, the DRA-800H features a symmetrical layout, double differential DAC circuit and analog preamp circuits that don't interfere with the power supply. The dedicated circuitry with its short, straight paths between the power supply, signal and amplification ensure your loudspeakers drive detailed and precise imaging.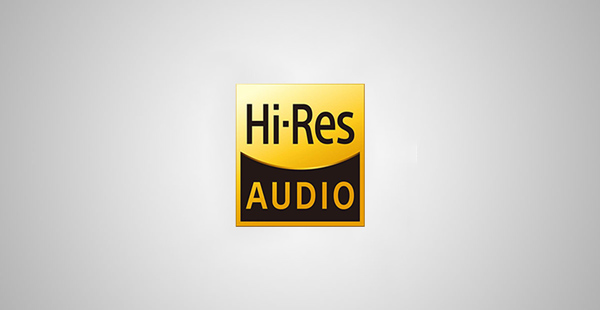 HIGH-RESOLUTION AUDIO
Enjoy superb audio fidelity with your favorite high-resolution audio tracks. The DRA-800H with AKM 32-bit D/A converters features high-resolution audio decoding with multiple lossless file types, including ALAC, FLAC and WAV at up to 24-bit/196-kHz. It's also compatible with 2.8/5.6-MHz DSD files (DSD is the audio coding format of SACD). Play them from memory devices via the front panel USB or over network sources. The DRA-800H also supports other file types such as MP3 and WMA.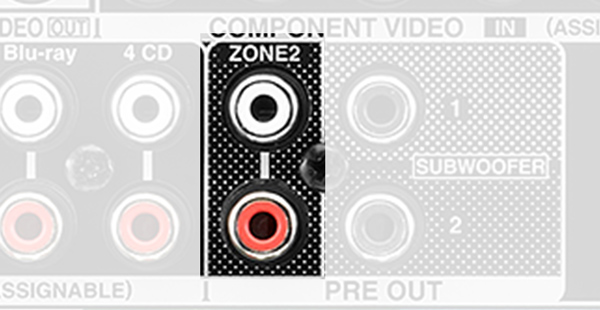 SPEAKER A/B AND ZONE 2 PRE-OUT
Connect two pairs of speakers for easy A/B switching. Or, extend your system to a second room and listen to a different source in Zone 2 via pre-outs.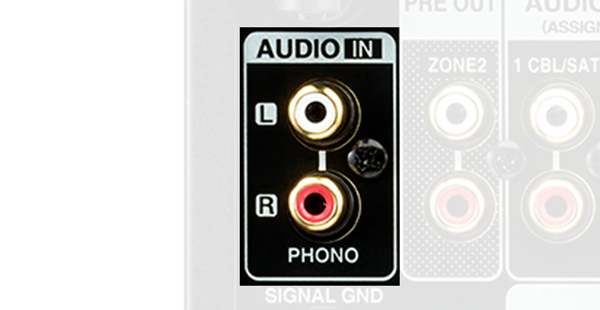 INTEGRATED PHONO INPUT
For nearly 50 years, Denon has been developing and manufacturing turntables and cartridges. The Denon designed phono input allows you to easily connect your turntable to the receiver and enjoy your vinyl collection.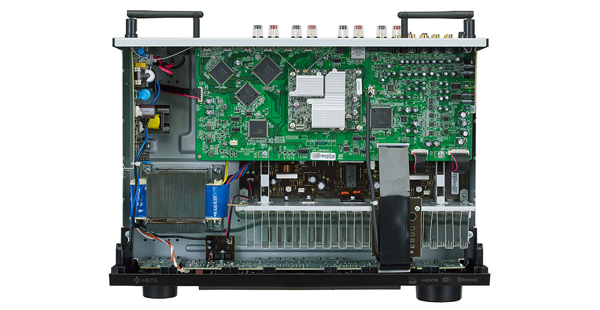 DUAL DAC DIFFERENTIAL CIRCUIT
The DRA-800H utilizes an eight-channel premium DAC to deliver amazing stereo imaging and detail. By assigning two DAC's per channel including the subwoofer output, hear increased dynamic range and improved signal to noise (s/n).
ADVANCED HDMI VIDEO SECTION
Enjoy your favorite movies, shows and games with the best picture quality available.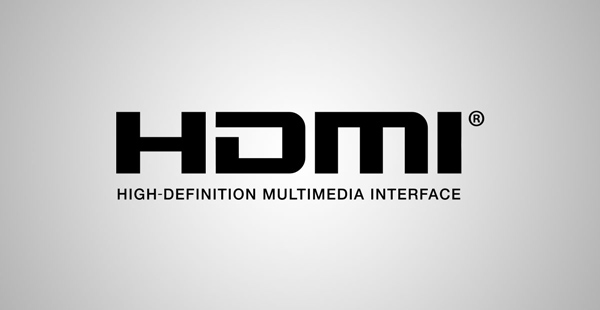 ADVANCED HDMI VIDEO SECTION WITH ARC
The DRA-800H features 5 HDMI inputs and 1 output — that support full 4K Ultra HD 60Hz video, 4:4:4 Pure Color sub sampling, High Dynamic Range (HDR10), Hybrid Log-Gamma (HLG), and BT.2020 pass-through support for exceptional color, clarity and contrast. HDCP 2.3 processing is available on all HDMI ports. Audio Return Channel (ARC) support enables the transmission of audio directly from the smart TV to the receiver through the connected HDMI cable.
ADVANCED VIDEO CONTROLS
HDCP 2.3 processing is available on all HDMI ports, letting you enjoy copy-protected content totally uninhibited. Enjoy seamless compatibility with the latest HD and Ultra HD TVs, Blu-ray players and game consoles.
EASY SETUP EXPERIENCE
The included DRA-800H Quick Start Guide provides simple, clear instructions for how to get started. Once you connect your TV to the DRA-800H via HDMI, the exclusive Denon Setup Assistant appears on your TV screen to walk you through setup, step-by-step.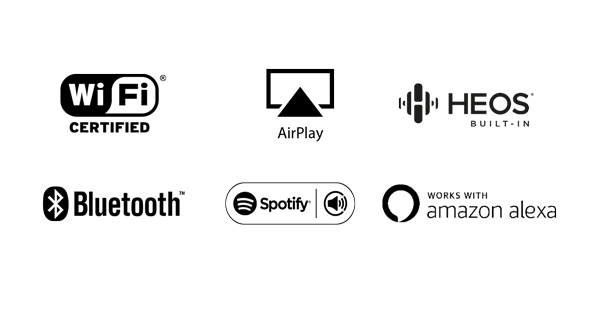 BUILT-IN BLUETOOTH AND WI-FI CONNECTIVITY
With Bluetooth and Wi-Fi wireless streaming connectivity, the Denon AVR-S950H is equipped with an advanced dual antenna transceiver system for robust streaming even in congested urban environments. Enjoy listening to your favorite audio content wirelessly from your smart devices.
With HEOS built-in technology play the same song in every room or select a different song for each connected room — the choice is yours. HEOS works with Amazon Alexa and Google Assistant, providing effortless voice control.
HEOS supports free and premium Spotify, Pandora, Amazon Music, TuneIn, iHeart Radio, Sound Cloud, SiriusXM, Tidal and more.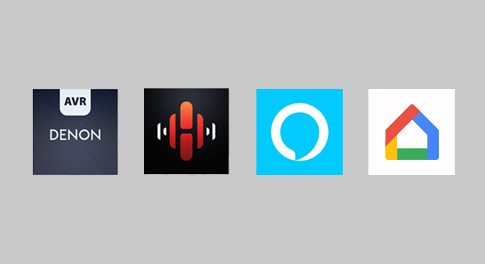 YOU'RE IN CONTROL
Better control in your back pocket. The free Denon AVR Remote app for iOS and Android makes using the DRA-800H even easier — adjust volume, turn it on or off, mute the music, select a source or switch to HEOS. Download the Denon AVR Remote app and the HEOS app to your smartphone today. Available for both iOS and Android.
Use Amazon Alexa, Siri, or Google Assistant to control your music.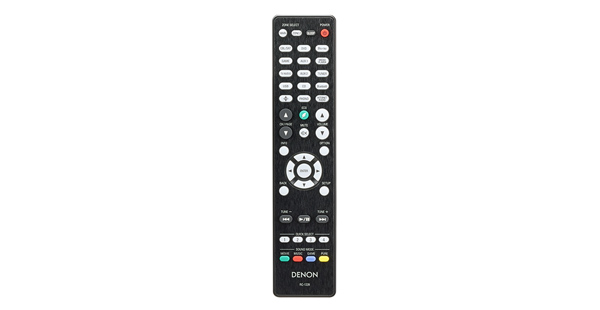 SMART TV CONNECTIVITY
Control the Denon DRA-800H with your TV remote via the HDMI CEC functionality associated with your TV. The Smart Menu home screen provides you quick access to source and surround mode selections, the AV receiver setup menu and four Quick Selects.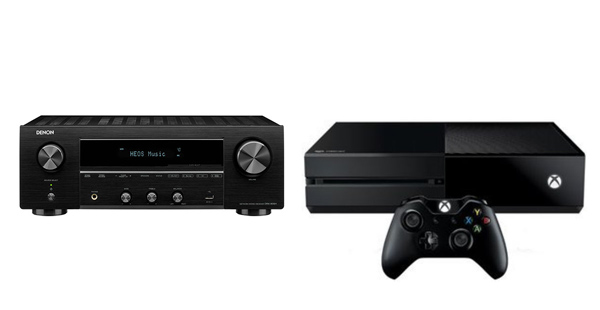 AUTO LOW LATENCY MODE
Auto Low Latency Mode (ALLM) ensures Xbox One users have a more responsive and immersive gaming experience when connected with select TV models that also support ALLM.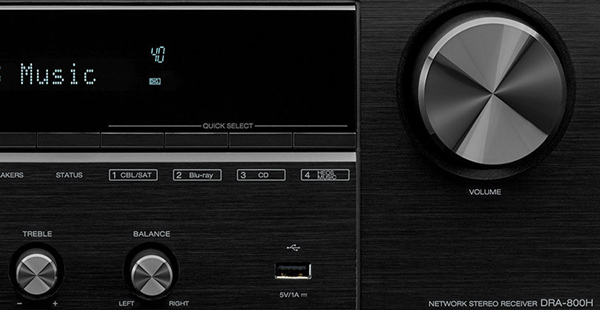 QUICK SELECTS FOR USER-FRIENDLY AUDIO TUNING
The Denon DRA-800H front panel features four Quick Select buttons that store your preferred audio settings for each source. Switch between TV audio, Blu-ray, media players and more, and the DRA-800H adjusts the EQ settings to your preferences for that media source. Use the buttons on the front panel or opt for the same Quick Select on the AV receiver remote for faster control. Now allows for one-push all zone stereo mode via Quick Select.
WORKS WITH LATEST VOICE ASSISTANTS
Enjoy effortless voice control and total flexibility from the leading voice services. Using a smart speaker or your phone, speak commands with Amazon Alexa, Google Assistant, Apple Siri and high-end smart home automation, Josh.ai. Ask to play your favorite music, turn the volume up, skip to the next track, switch inputs and more. Switch between voice services or pick a favorite to use — the choice is yours. Functionality varies by voice agent.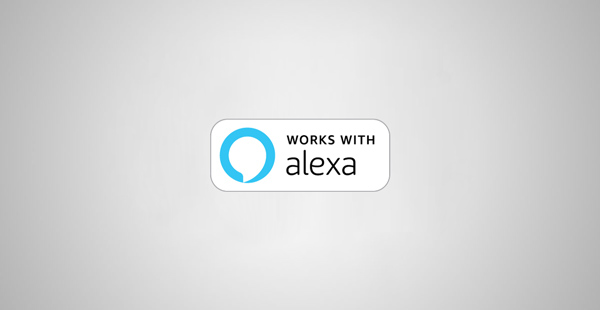 WORKS WITH AMAZON ALEXA
Control the DRA-800H hands-free with Amazon Alexa and your voice. Adjust the volume, skip to the next track, switch inputs for your different media players and more — "Just Ask." Download the free HEOS Home Entertainment Skill to enable Amazon Alexa voice commands for your DRA-800H, HEOS devices and other select Denon products. Requires Alexa app and Amazon Echo, Dot or equivalent.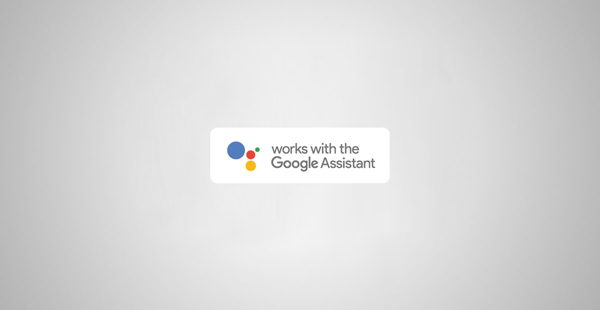 WORKS WITH GOOGLE ASSISTANT
Start music in the HEOS app, then ask your Google Assistant to control volume, play, pause, skip tracks and more.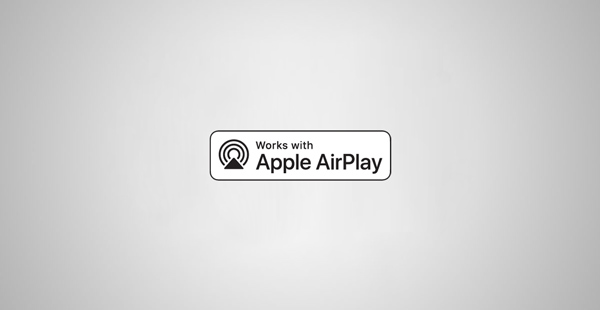 AIRPLAY 2 + APPLE SIRI VOICE CONTROL
Use AirPlay 2 to stream music wirelessly to the AV receiver, or group with other AirPlay compatible speakers to fill your home with music.
Stream audio from your favorite music services like Apple Music and Spotify or watch videos from services like YouTube and Netflix from any iPhone, iPad, Mac or Apple TV and hear the audio perfectly synced to your speakers AirPlay 2 sources.
AirPlay 2 also supports multi-room audio – wirelessly stream content to multiple AirPlay 2 compatible devices simultaneously with improved audio buffering to ensure smooth audio playback. AirPlay 2 provides control and grouping of compatible audio devices within the Apple Music or Home app. Use AirPlay 2 in-app or with your voice via Siri.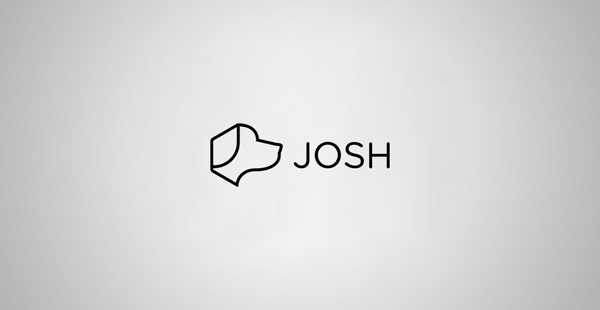 JOSH.AI SMART HOME VOICE AUTOMATION
An elevated voice agent for the high-end smart home, Josh.ai offers flexible voice control for nearly any aspect of your day-to-day experience and entertainment environment. Use voice commands to control the thermostat, lights, home appliances, speakers, AVR and more. Josh.ai is installed by custom integrators and accessed through an app on your phone or tablet. Works with iOS and Android devices.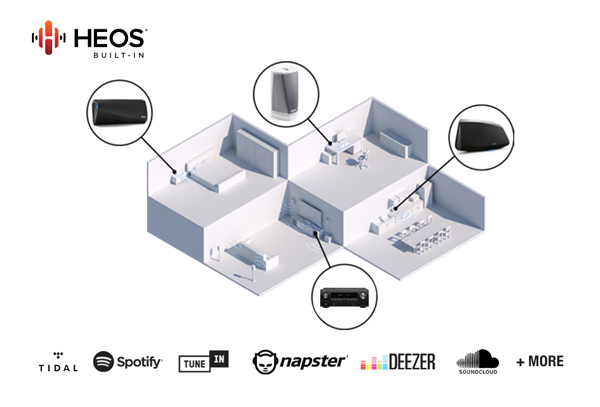 HEOS BUILT-IN FOR WIRELESS MUSIC STREAMING
Stream your favorite music from anywhere and everywhere around your home with HEOS Built-in technology. Enjoy high quality music from a wide range of streaming services including Spotify®, TuneIn, Pandora®, Amazon Prime Music, iHeartRadio, SiriusXM, Soundcloud®, Tidal, Napster, Deezer or local music sources. Control it all seamlessly with the free HEOS app.
PLAY YOUR MUSIC ANYWHERE WITH HEOS SPEAKERS
With the HEOS multi-room function, the Denon AVR-S950H can connect with any other product with HEOS built-in, like HEOS speakers, to play music throughout your entire home. Play the same song in every room or select a different song for each connected room — the choice is yours.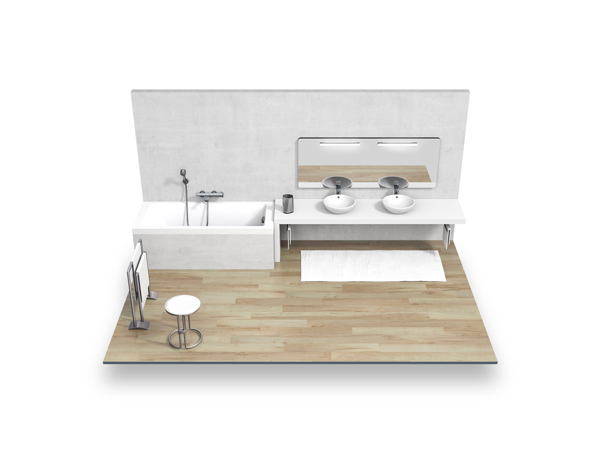 HEOS 1:
Ideal for damp environments or outdoors.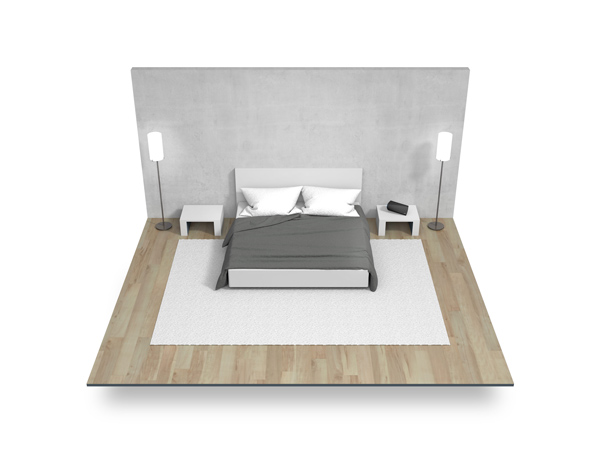 HEOS 3:
The perfect choice for medium sized rooms.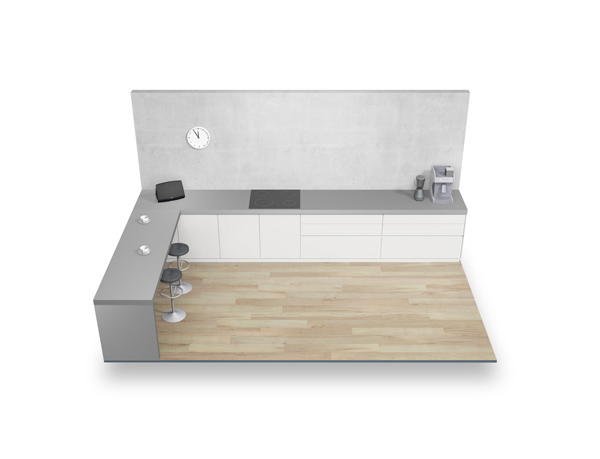 HEOS 5:
Bring beautiful sound into larger rooms.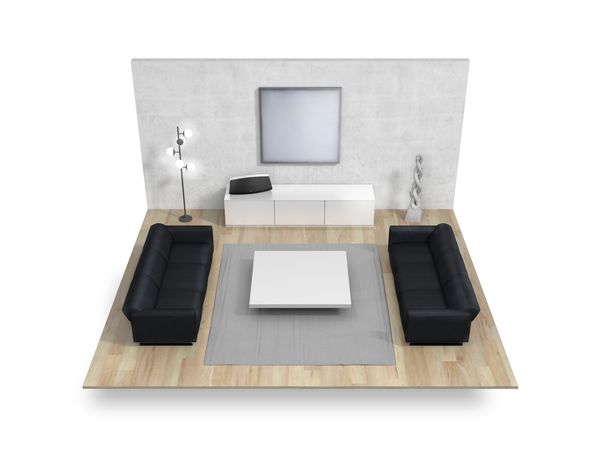 HEOS 7:
Get the party going in wider spaces and open areas.
Custom Install Ready
The Denon DRA-800H features external control and IP control capabilities for easy customization and compatibility with third-party integration solutions. It offers IP control capability for major third-party control devices, as well as Control4 SDPP (Simple Device Detection Protocol) certification for seamless integration with Control4 home automation equipment. An IR (infrared) remote control jack is on the rear panel for remote control compatibility with other components in your home theater system, and remote monitoring capability is now supported for troubleshooting.
100+ Years of Firsts in Audio Technology
Founded in 1910, Denon has a deep heritage of "firsts" in audio technology — from Japan's first audio electronics manufacturer, to producing the world's first commercial CD player and Dolby Atmos-enabled AV receiver. This focused investment in audio R&D ensures you get the latest technology and highest quality with every listening experience.
Multichannel Surround
DTS HD Master / DTS:X
No /No
DTS Neo:X / DTS Neural:X
No /No
DTS Virtual:X
No
Dolby TrueHD / Dolby Atmos
No
Dolby ProLogic Il / Dolby Surround
No
Dolby Height Virtualization
No
Auro 3D
No
IMAX Enhanced
No
Multichannel Stereo
No
Max Number of Processing (Preamp) Channels
2.1
Sound Enhancements
Mono Block Power Amp Construction
No
Discrete Power Amplifier
Yes
D.D.S.C. HD Digital
No
Pure Direct
Yes
Gold Plated RCA Terminals
Yes
Clock Jitter Reducer
No
Alpha Processing
No
Denon Link HD
No
Audyssey
No
Audyssey Dynamic EQ / Dynamic Volume
No /No
Audyssey LFC
No
Compressed Audio Restorer
Yes
Network
DLNA Certified
No
Lossy Formats: MP3 / WMA / AAC
Yes /Yes /Yes
Lossless Formats: FLAC / ALAC / WAV
Yes /Yes /Yes
DSD Audio Streaming
Yes
Gapless playback
Yes
Photo Streaming (JPEG)
No
Windows PlayTo / Windows8 Certified
No
Internet Radio
Yes
Compatible with Remote APP for Smart Phones
Denon 2016 AVR Remote
Compatible with Remote APP for Tablets
Android / iOS / Amazon Kindle
Ethernet Ports
Yes
Wi-Fi
Yes
Bluetooth
Yes
Media Server
Yes
HEOS Wireless Multi-Room Technology
Yes
Lossless formats: FLAC HD 192/24 / WAV 192/24 / ALAC 192/24
No
FLAC HD 192/24
Yes
WAV 192/24
Yes
ALAC 192/24
Yes
Spotify*
Yes
Pandora*
Yes
SiriusXM*
Yes
Other Streaming Services *
Amazon Music / TIDAL / Deezer / iHeart Radio / Napster / Soundcloud / Mood Mix
HEOS App Control
Yes
Bluetooth Re-transmit for Bluetooth headphones
Yes
AirPlay / Airplay2 Audio Streaming
No
Alexa / Google Voice Assistant / Apple HomePod
Yes /Yes /Yes
HDMI
HDMI Inputs: Back / Front
No
HDCP 2.2 support
Yes
HDMI Outputs: Main / Zone
No
Video Conversion Analog -> HDMI
No
Analog to HDMI Scaling
No
HDMI to HDMI Scaling
No
GUI Overlay on HDMI
Yes
3D Signal Pass-through
Yes
4K Signal Pass-through / Scaling / GUI Overlay
Yes /No /Yes
HDMI Pass-Through in Standby Mode
Yes
Picture Adjust / Noise Reduction
No /No
CEC
Yes
DSD Audio Capability
No
Audio Return Channel
Yes
Auto LipSync
Yes
HDMI: 3D / 4K / CEC / ARC / InstaPrevue
Yes /Yes /Yes /Yes /No
Enhanced Audio Return Channel
No
HLG / Dolby Vision
No
HDR / HLG / Dolby Vision
Yes /Yes /No
ALLM (Auto Low Latency Mode) Pass-through for gaming
Yes
Multi-Room / CI
Multi-Room Zones
2
Zone Audio Source: HDMI / Opt, Coax / Network, USB / Analog
Yes /Yes /Yes /Yes
Zone Audio Output: Speaker / Preout
No /Yes
Zone HDMI Output from HDMI Source
No
IP Control / RS232 Control / Web Control / App Control
Yes /No /Yes /Yes
Remote In / Out
Yes /No
DC Trigger Output
No
HDMI Diagnostics
Yes
TV Sound grouping
No
Main room multichanel audio - Zone stereo downmix
No
Others
Voice Control - Works with Amazon Alexa
No
Voice Control - Google Assist / Apple Siri
No
Auto Speaker Setup by Microphone
No
FL Display
1 line
Graphic User Interface - GUI
Hybrid GUI
ISF Certification
No
GUI Languages
3
Setup Assistant
Yes
Quick Select Plus / Quick Select
Yes /No
Firmware Update by: Network / USB
Yes /Yes
Variable Cross Over
No
Optimized Bass Redirection
No
Bass Sync
No
ECO Mode
Yes
Auto Power Off
Yes
Sleep Timer
Yes
Inputs/Outputs
Composite In / Out
No /No
Component In / Out
No /No
HDMI In / Out
5 / 1
Multi-room Video Out: Video / HDMI
No /No
Analog In / Out
No
Phono (MM) In
Yes
Digital In: Optical / Coaxial
2 / 1
Multi-room Out: Analog / Digital
1 / 0
Multichannel Preout
Yes /No
Subwoofer Out
2
7.1 Multichannel Input
No
Speaker Terminal: Gold Plated Screw / Regular Screw
Yes /No
Number of Speaker Terminals
4
Speaker A / B
Yes
Bi-amp Drive
No
Multi-Room Speaker Terminal
No
Front Inputs: Audio / Composite / Digital (Opt) / HDMI / USB
No /No /No /No /Yes
USB Audio / Made for iPod / Made for iPhone
Yes /No /No
AM/FM Tuner
Yes
Tuner: FM / AM
No
Specifications
Number of Power Amps
2
Power Output (8 ohm, 20 Hz - 20 kHz, 0.08% 2ch Drive)
100 W
Power Output (8 ohm, 20 Hz - 20 kHz, 0.05% 2ch Drive)
No
Power Output (6 ohm, 1 kHz, 0.7% 2ch Drive)
120 W
Power Output (6 ohm, 1 kHz, 10% 1ch Drive)
175 W
General
Metal Front Panel
No
System Remote Control
RC-1235
Pre-programmed / Learnable / LCD Display
No /No /No
Power Consumption in W
TBD
Power Consumption No-Sound (ECO On / Off) in W
TBD
Standby Consumption in W
0.1
CEC Standby Consumption in W
0.5
Network Control On Consumption in W
No
Maximum Dimensions Antenna: Horizontal: (W x D x H) in Inches Antenna: Vertical: (W x D x H) in Inches W/O Antenna: (W x D x H) in Inches
17.1× 13.3 × 6 ( 17.1 x 13.3 x 8.5)
Weight in LBS
18.3
Carton Dimensions (Packaging) (W x D x H) in Inches)
No
Weight in LBS (Packaging)
No
Power Supply
AC 120 V, 60 Hz
Speaker impedance
No
Preamplifier section
No
FM section (Tuning frequency range)
No
AM section (Tuning frequency range)
520 kHz – 1710 kHz
Carton Maximum Dimensions (W x D x H) in Inches
No
Carton Weight (inc. product) in LBS
No