Denon Integrated Network Amplifier - PMA1700NESP
Denon Integrated Network Amplifier - PMA1700NESP
Denon Integrated Network Amplifier - PMA1700NE

Denon Integrated Network Amplifier - PMA1700NESP
PMA1700NESP
$2,749.00
Literature
Featuring advanced ultra-high current single push-pull circuit power, Advanced AL32 Processing, and MM/MC phono equalizer, the Denon PMA-1700NE integrated amplifier delivers extraordinary sound quality with precise detail.
Powerful sound from an integrated amplifier
Engineered with premium Denon technologies, this amplifier drives two channels at 140W.
Faithful audio reproduction
Advanced AL32 Processing Plus delivers the richly detailed sound the artist intended.
Build integrity with selected components
With more than 110 years of audio excellence, Denon products are built to last.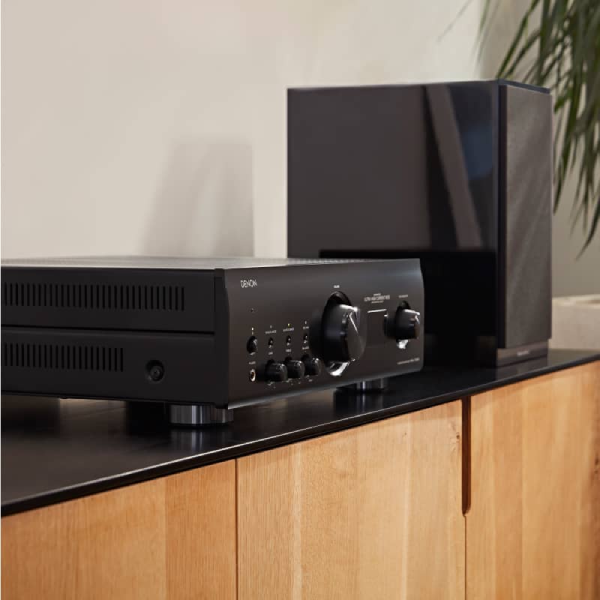 High-power 140W integrated amplifier
Drive your loudspeakers with 140 Watts of power- per-channel into 4 Ohms. This integrated amplifier offers compatibility with the widest range of 6 speaker types and impedances for operational stability.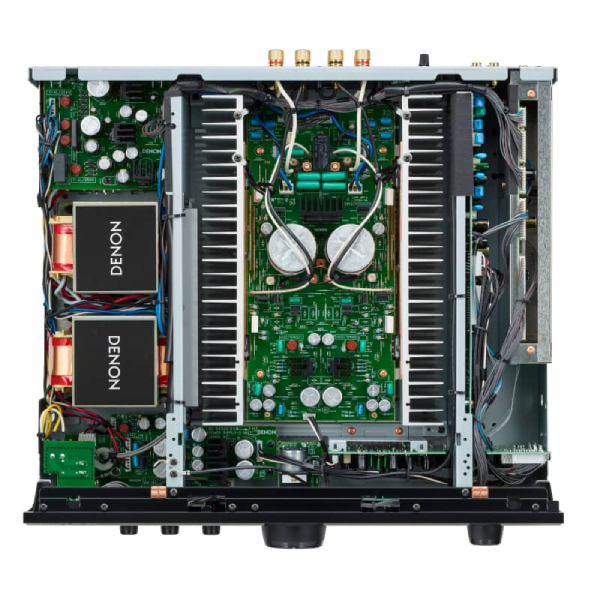 Advanced AL32 Processing Plus
Advanced AL32 Processing Plus supports high-resolution 384 kHz/32-bit audio sources. The algorithms restore information that was lost during the digital recording to ensure detailed playback.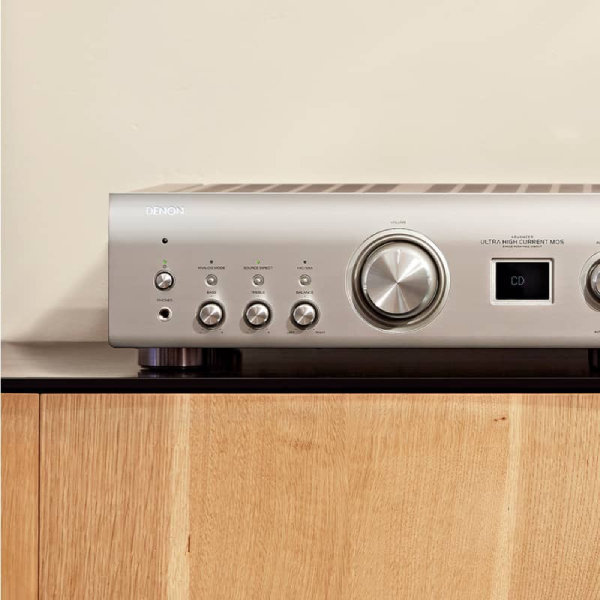 USB-DAC
To accurately synchronize digital circuits, the PMA- 1700NE provides USB-DAC functions that support high resolution up to 11.2-MHz DSD and 384- kHz/32-bit PCM input signals. Crafted with exceptional quality, the DAC suppresses jitter and ensures optimal precision in D/A conversion.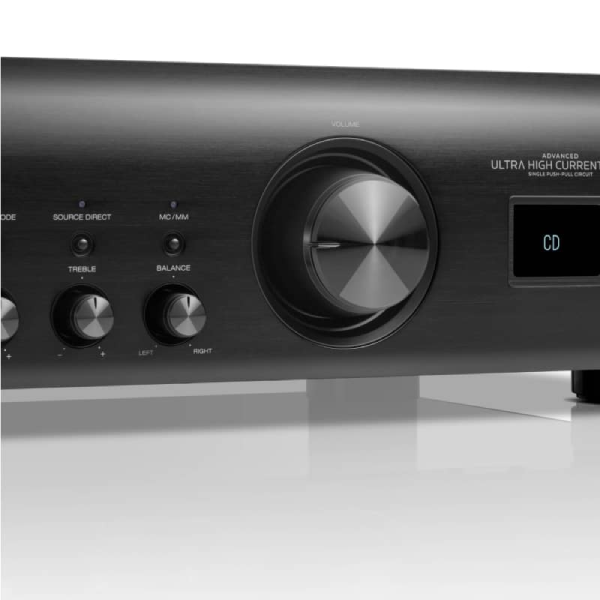 High-precision electrical controls
The PMA-1700NE embraces electrical volume, balance, and tone controls while preserving the analog feeling of operation. The unique mechanism offers smooth, linear control.
Control
Power Cord
Yes
Battery
Yes (AAA x2)
Remote Controller
Yes
Quick Start Guide
Paper E2: (English, German, French, Italian, Dutch, Spanish, Swedish, Polish, Russian) E3: (English, French, Spanish) E1C: (Simplified Chinese) JP: (Japanese)
Owner's Manual
Web Manual E2: (English, German, French, Italian, Dutch, Spanish, Swedish, Polish, Russian) E3: (English, French, Spanish) E1C: (Simplified Chinese) JP: (Japanese) Paper JP: (Japanese)
Auto Standby Mode
Yes
Last Function Memory
Yes
TV Auto-play (Opt/Coax digital-in detecter)
Yes
Control with App via Network Player (Use Remote Control Bus)
Yes
Display Language
Alphabetical
Dimmer for Front Display
Bright / Dim / Dark / Off
Front Panel Display
Yes (OLED 128 x 100 dot) MXS4036-A
LED
POWER: 1 Red / Green ANALOG MODE: 1 Green SOURCE DIRECT: 1 Green MM / MC :1 Green
Unit control (Knob)
5 VOLUME, INPUT SELECTOR, BASS, TREBLE, BALANCE
Unit control (Button)
Push Switch: 1 POWER Tact Switch : 3 ANALOG MODE, SOURCE DIRECT, MM / MC
Remote Controller
Yes
Connectivity
Roon Certificaton
Yes(Roon Tested) TBD
DSD Audio Streaming (DoP)
~11.2MHz
PCM Sample Rate
~384kHz/32bit
Module or Main Device
New XMOS (XU210-256-TQ128 )
USB B (USB DAC)
1 (Rear)
HEOS
No
AC Inlet
Yes
Wi-Fi
No
Headphone Output
1 (Turn off the speaker when inserting headphone)
Remote Control Bus Terminal
Yes (mini)
Speaker Terminal
Gold Plated
2 sets of Speaker Output
Yes (Bi-wiring)
Ext. Pre Input (Power Amp Direct)
Yes(Ext.Pre)
Optical input / output (Maximum Support)
2 / 0 (192kHz/24bit)
Coaxial input / output (Maximum Support)
1 / 0 (192kHz/24bit)
Analog Input (include Phono) / REC Out (RCA)
4/1 (PHONO / CD / NETWORK ,AUX/ RECORDER)
Phono Input
Yes (MM / MC) *default=MM
Audio Feature
Isolator (for USB-B input)
Yes Full Isolation
Asyncronous mode (for USB-B input)
yes
DAC Master Clock Design (Not Support Network Playback)
Yes
Digital Filter
Fixed
Digital Processing
Advanced AL32 Processing Plus
DAC Circuit
PCM1795
Other
70
Analog Amp Mode
Yes (button on front panel)
Type of Tone Control
Electric Controlled by Potentiometer
Headphone Circuit
Use Poweramplifier
Source Direct
Yes
Pre Amplifier Circuit
Variable Gain Preamplifier (OP AMP)
Volume
Electric (MUSES 72323)
Bass / Treble / Mid / Balance Control
Yes / Yes / No / Yes
Power Trans
Dual El Core
Power Amplifier Circuit
New UHC-MOS Single Push Pull (7)
Specifications
at Standby
0.2W TV autoplay off 0.4W TV autoplay on
Power Consumption
295W
Tone Control
BASS : 100Hz ±8dB TREBLE : 10kHz ±8dB
Signal to Noise Ratio
PHONO (MM): (89dB) PHONO (MC): (74dB) CD: (107dB)
Input Sensitivity: Power Amp input
0.85V / 47kohm (EXT. PRE)
Phono Maximum Input
MM : 130mV / 1kHz MC : 10mV / 1kHz
Input Sensitivity: CD/LINE/RECORDER
125 mV / 19 kohm
Input Sensitivity: Phono input
MM: 2.5 mV / 47 kohm MC: 200
RIAA Deviation
20 Hz - 20 kHz ଐ.5 dB (MM/MC)
Dumping Factor
100 and over
Total Harmonic Distortion
0.01 % (Rated output: –3 dB), 8 ohm/ohms, 1 kHz
Frequency Response
5Hz - 100kHz (0~ -3dB)
Speaker Impedance
A or B : 4 ~ 16ohm A + B : 8 ~ 16ohm
Rated Output Power
70W + 70W (8ohm,20Hz-20kHz,THD0.07%) 140W + 140W (4ohm, 1kHz, THD0.7%)
General
Foot
ABS resin with rigid rib w/Hot stamp (H : 20mm)
Heatsink for Power Amplifier
Extruded Aluminum
Power button
Aluminum
Other knob/button (LOUDNESS, SOURCE DIRECT etc)
Mold (Source Direct,Analog Mode,MM/MC)
Bass/Treble/Balance/ Phono Sel knobs
Aluminum
Volume Knob
Aluminum
Input Selector
Aluminum
Bottom Layer
Single
Chassis Material
SECC t1.2mm
Rear Panel
SECC t1.0mm
Side screw
SP: Nickel / BK: Black
Side cover
SECC with 4 straight emboss
Front (Center) Panel
Aluminum
Panel Color
SP / BK
Cushion / Packing
4 Separate / Sheet
Carton Color
2 Color
Packaging gross weight
20.4kg, 45lb
Packaging Dimensions (W x D x H)
548 x 520 x 249mm, 21.6 x 20.5 x 9.8in
Net weight
17.6kg, 38.8lb
Cabinet Size (W x D x H)
434 x 374 x 135mm, 17.1 x 14.7 x 5.3in
Unit (W x D x H)
434 x 410 x 135mm, 17.1 x 16.1 x 5.3in