Denon 2 Channel 160W Integrated Amplifier in Silver Graphite - PMAA110GS
Our Price

$

4,999.00

CAD

/ Each

Or as low as $555.44/month over 9 months. Apply Now

Denon 2 Channel 160W Integrated Amplifier in Silver Graphite - PMAA110GS
PMAA110GS
$4,999.00
Literature
The Denon limited series Anniversary Edition silver graphite PMA-A110 integrated amplifier delivers best in class audio performance for a best in class audio experience.
110 years defining audio excellence
For 110 years, Denon has delivered the most cutting-edge audio and video technical achievements.
Sound master inspired
The Denon sound master didn't just tune this product, he obsessed over it.
High-power, integrated amplifier
160 watts of power delivers the most precise and powerful Denon sound.
Ultra AL32 processing
The PMA-A110 is equipped with Ultra AL32 Processing, the latest in analog waveform reproduction technology from Denon.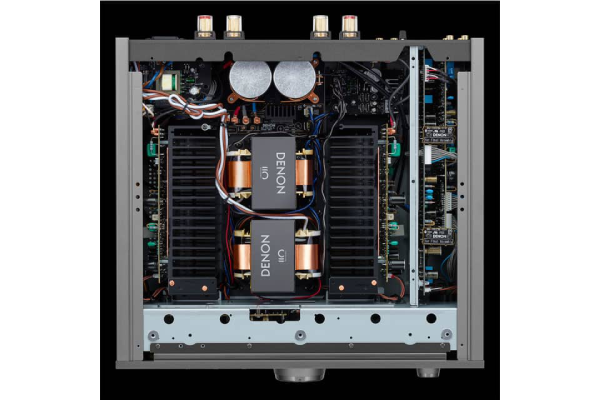 7th Generation Ultra High Current MOS Single Push-Pull Circuit
To achieve impeccable balance between delicate details of music reproduction and vigor of low frequency sound, it's capable of delivering a massive current output in a single push-pull configuration to drive even the most demanding speaker.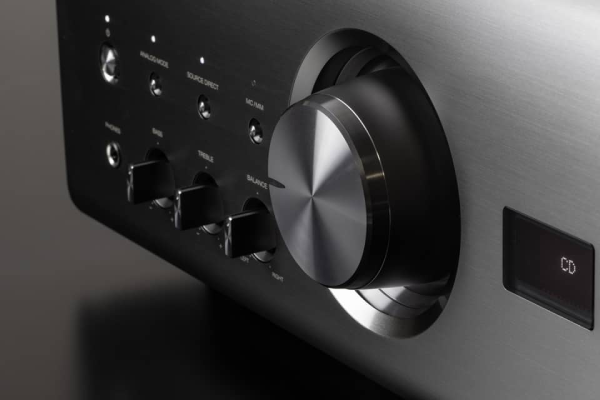 High Precision Electrical Controls
The PMA-A110 embraces electrical volume, balance and tone controls while preserving the analogue feeling of operation. Clever engineering offers the feel of an analogue volume knob while an MCU measures the position of the knob and converts that position to control the master volume digitally.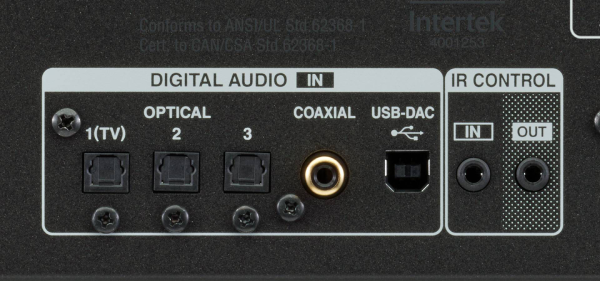 Multiple digital inputs
The PMA-A110 features a USB-B input to directly connect a computer and supports PCM signal 384-kHz/32-bit and 11.2-MHz DSD. Use the USB-B input to listen to Hi-Res audio or you can take advantage of three Optical inputs and one Coaxial input which support PCM 192-kHz/24-bit.
DETAIL VIEW
Denon is proud to release a limited run of this Anniversary Edition silver graphite flagship PMA-A110 integrated amplifier.
Enjoy higher S/N ratio and audible power with a quadrupled output current from the four DAC per channel parallel configuration.
Ultra AL32 Processing is a unique feature with data interpolation algorithm to achieve high-bit, high-sampling output performance.
Maximum performance to drive your favorite loud speakers with 160W per channel power output (4ohm, 1kHz, THD: 0.7%).
Set Analog Mode on your PMA-A110 to enjoy your music free from any digital interference.
Hear pure, superior sound with a condensed relay for Source Direct function from the shortest signal path.
BCK PANEL
All Denon amplifiers boast an exceptional sound signature and this model was enhanced by the Denon Sound Master for our milestone anniversary.
Enjoy wide bandwidth sound from deep bass to detailed highs, and hear every detail in between your favorite songs.
Hi-Res audio playback up to 384kHz/32-bit and DSD11.2 with rear USB-B input for more audio format options.
Connect your turntable and enjoy vinyl tracks at premium performance with an MM & MC phono equalizer amp.
Hear pure, superior sound with a condensed relay for Source Direct function from the shortest signal path.
A twin transformer with separate coiled wires for audio and control circuits eliminates interference and optimizes sound quality.
Features
Channels
2
110th Anniversary Audio Tuning
Yes
All black interior
Yes
Exclusive A110 speaker terminals
Yes
Aluminium Top Cover
Yes
Aluminium Feet
Yes
Digital in: USB-B / optical / coaxial / USB-A
1 / 3 / 1 / No
Sample Rate digital In
192 kHz / 24-bit
USB-B DSD Audio Streaming (DoP): DSD2.8 / DSD5.6
<=DSD11.2
USB-B PCM sample rate
384 kHz / 32-bit
Quad DAC Configuration
Yes
DAC chip
4x PCM1795, Burr Brown Mono-Mode
Asynchronous mode rear USB
Yes
Bit-perfect transmission
Yes
Ground isolator for DAC Mode operation
Yes
AL 32 Processing
ULTRA AL32
DAC Master Clock Design
Yes
Streaming audio from PC
Yes
Analogue Mode
Yes
UHC-MOS single push pull circuit
7th Generation
LC mounted twin transformer
Yes
Wide range amplifier
Yes
High current dynamic power supply
Yes
Power amp discrete construction
Yes
Balance / Bass / Treble / Loudness
Yes / Yes / Yes / No
Others
Shottky diodes
Yes
Solid Heat Sinks
Yes (BLACK)
Source Direct
Yes
Power Amp direct
Yes
Inputs Outputs
Audio Inputs
5
Digital in: USB-B / optical / coaxial / USB-A
1 / 3 / 1 / No
Phono Input: MM / MC
Yes / Yes
Audio Outputs
1
Power Amp Direct IN
Yes
Gold plated Cinch
Yes
Number of terminals
4
Remote Control Bus in / out
Yes
Headphone Out
Yes
Specifications
Output power 8 Ohm (20 Hz - 20 kHz, T.H.D. 0.07%)
80 W
Output power 4 Ohm (1 kHz, T.H.D. 0.7%)
160 W
Total Harmonic Distortion
0.01%
Input Sensitivity: MM
2.5 mV / 47 kohm
Input Sensitivity: MC
200 uV-100 ohm
Signal to Noise Ratio: MM/MC
89 dB / 74 dB
Input Sensitivity: High level
135 mV / 47 kohms
Signal to Noise Ratio: High level
110dB
Treble Control
± 8 dB at 10 kHz
Bass Control
± 8 dB at 100 Hz
General
Available colors: Premium Silver / Black
Silver Graphite
Metal Front Panel
Yes
Power Consumption in W
400
Standby Consumption in W
0.2
Auto Power Off
Yes
Detachable Power Cable
Yes
Remote Control
RC-1237
System Remote Function
Yes
Maximum Dimensions (W x D x H) in mm
434x450x182
Weight in kg
25
Carton Maximum Dimensions (W x D x H) in Inches
573 x 533 x 317
Carton Weight (inc. product) in KG
55.1