Samsung Wireless Rear Speaker kit SWA-8500S - SWA-8500S/ZC

Samsung Wireless Rear Speaker kit SWA-8500S - SWA-8500S/ZC
SWA-8500S/ZC
$199.99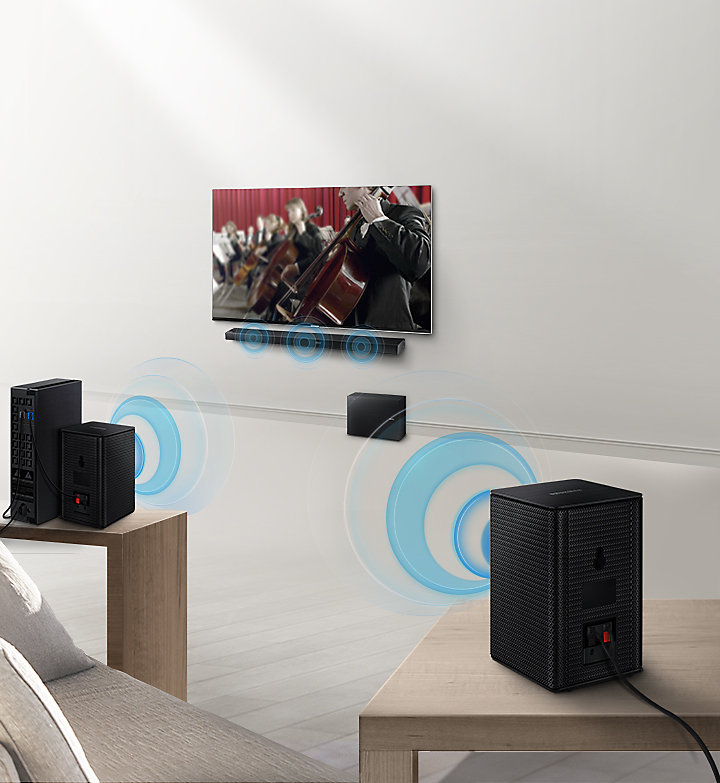 Surround Sound Expansion
With the convenience of wireless and the outstanding connectivity with various soundbar models, Wireless Rear Kit will enhance your surround sound, taking it to the next level for more dynamic entertainment.
General Feature
Number of Channel
2 Ch
Dimension
Net Dimension (Wireless Module) (WxHxD)
50 x 201.3 x 132 mm
Net Dimension (Rear Speaker) (WxHxD)
76.2 x 126.9 x 76.2 mm
Gross Dimension: One Packing
394 x 128 x 278 mm
Weight
Net Weight (Wireless Module)
0.7 kg
Net Weight (Speaker)
0.5 kg
Gross Weight: One Packing
2.4 kg
POWER
Stand-by Power Consumption (Wireless Module)
0.45 W
Operating Power Consumption (Wireless Module)
54 W
Free Voltage
Yes
Reviews
Average Customer Ratings
| | | |
| --- | --- | --- |
| Overall | | 2.40 |
| Design | | 2.80 |
| Features | | 2.60 |
| Performance | | 3.00 |
| Value of Product | | 2.60 |
Pros
Inexpensive
Durable
Durable
Cons
Poor quality, Did not meet expectations
Did not meet expectations
Did not meet expectations
Submitted a year ago
By B_rad
Reviewed at


As someone else mentioned. Not very loud. Can't hear them at all over the sound bar. I expected something fro the back with these but it's really not worth it at all. Do not buy. Pointless add on.
Bottom Line No, I would not recommend to a friend
Submitted 2 years ago
By Samsunger
Reviewed at


1
Compatible but not really
I own the amazing Samsung HW-Q70R soundbar. There was no need to improve on the sound of it, but yet I couldn't resist adding this back speaker surround sound kit. These little speakers are so inferior to the soundbar that they produce pretty much nothing at all. Even at the 6+ level, there is a very faint copy of the sound that comes from the soundbar. There is no surround sound effect at all. I understand it may work with some soundbars but definitely not with the HW-Q70R even though Samsung says it is compatible, but that only means they can find each other, not work with each other.
Bottom Line No, I would not recommend to a friend
Submitted 2 years ago
By JasonLiu
Reviewed at


1
Not that kind of wireless
I was expecting it is wireless as such it is bettery powered or the little speakers have only the power cable connected to it. But in fact, the speakers need to be connected to the receiver which is not what I expected.
Bottom Line No, I would not recommend to a friend
Submitted 2 years ago
By Samsunghdmi2.1ports
Reviewed at


4
Will these work with my new Samsung HW-Q800T sound
I bought these for my Samsung N650 Soundbar last year but I have it away. But I did purchase the new Samsung HW-Q800T Soundbar to go with my new Samsung Q90T tv. I was told the SWA-8500S/ZC rear speakers will work with the 800T Soundbar. Can this be confirmed?
Bottom Line Yes, I would recommend to a friend
Submitted 2 years ago
By Rob T
Reviewed at


5
Great Surrounds Paired w/ T650 Virtual:X Soundbar!
Bought these Samsung 8500S surround sound speakers (and the T650 soundbar) to create an awesome 5.1 channel system... Setup was a breeze. Connected the T650 soundbar and subwoofer to our 65" RU8000 TV, then connected the 8500S surround speakers via bluetooth to turn the 3.1 soundbar into a full 5.1 system. All the components work seamlessly together. Regular surround mode is decent, but switch to Virtual:X and the whole sound system comes alive, especially the surrounds, expanding the soundstage all around you, elevating surround speaker sounds above you, sharpening the dialogue and drastically deepening the base. Pro setup tips: 1) Put the surround speakers on stands slightly behind and above you, aimed at your head to maximize the T650's Virtual:X atmospheric sound effects. 2) Run the wires from the speakers down through the stands, then under your couch to the bluetooth receiver unit (the speaker kit is described as "wireless", but the speakers themselves are in fact wired into a small bluetooth receiver, and it's that receiver that connects wirelessly to your soundbar or TV). 3) Be patient with the bluetooth connections, they'll connect with a couple tries. 4) You'll probably get best results using Samsung stuff throughout the system (I know, that's how they get you, but is what it is). My setup is an RU8000 TV + T650 soundbar & subwoofer + these 8500s speakers. Light yours up and enjoy!
Bottom Line Yes, I would recommend to a friend