36" Samsung 24.0 Cu. Ft. Bespoke French Door Counter-Depth Refrigerator - RF24BB6200APAA
Read Reviews 4.33 (9)
Write a review
66% would recommend this to a friend
Price
$3,399.99
Savings
$1,300.00
Our Price

$

2,099.99

CAD

Or as low as $233.33/month over 9 months. Apply Now

36" Samsung 24.0 Cu. Ft. Bespoke French Door Counter-Depth Refrigerator - RF24BB6200APAA
RF24BB6200APAA
Literature
Designed for you, by you
A stylishly unique design
Ice your way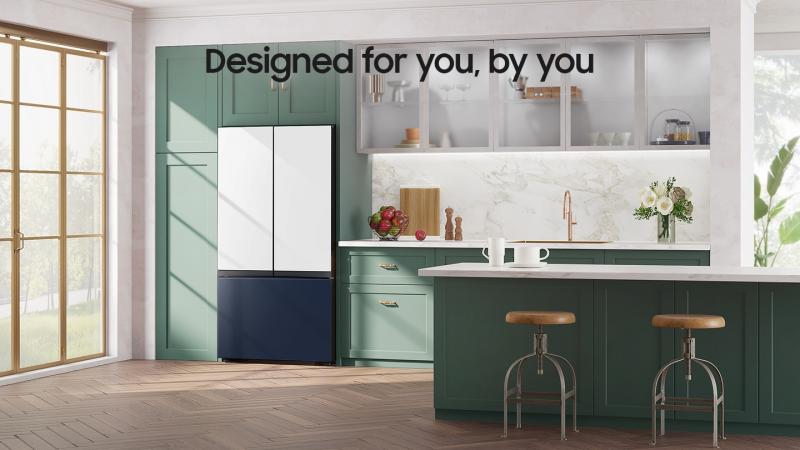 Freezer Feature
Ice Storage (Ice Bites)
3.7 lb
Ice Scoop
1 EA
Easy Open Handle
Yes
General Feature
Door Alarm
Yes
Refrigerant
R600a
Exterior Feature
Door Type
Bespoke
Door Handle
Recessed
Colour
No Panels
Performance
Energy Consumption
630 kWh/year
Energy
Energy Star
Yes
Installation
Counter Depth
Yes
Smart
WiFi Embedded
Yes
Specifications
Filter by Category
French Door Refrigerators
Freezer Feature
Ice Making Capacity per Day (Ice Bites)
3.1 lb
Ice Storage (Cubed Ice)
3.1 lb
Ice Making Capacity per Day (Cubed Ice)
3.1 lb
Dual Ice Maker
1 EA
Power Freeze Function
Yes
Interior LED Light
Yes
Drawer Type
2 Tier
Refrigerator Feature
Big Pantry
2 EA
Autofill Water Pitcher
Yes
Interior LED Light
Yes
Power Cool Function
Yes
Number of Door Pocket
8 EA
Capacity
Total Capacity
24
Net for Freezer (cu.ft)
6.8
Net for Fridge (cu.ft)
17.2
Physical specifications & size
Net Dimension (WxHxD)(inch)
35 6/8 x 70 x 28 6/8
Net Width (inch)
35.75
Net Case Height with Hinge (inch)
70
Net Depth with Door Handle (inch)
28.75
Net Case Height without Hinge (inch)
68.875
Net Depth without Door (inch)
24
Net Depth without Door Handle (inch)
28.75
Packing Weight (kg)
134
Net Weight (kg)
124
Packing Dimension (WxHxD)(inch)
38 1/4 x 76 3/4 x 30 5/8
20/40/40H (Container)
14(20ft) / 30(40ft)
Cooling Feature
Multi Flow
Yes
No Frost
Yes
Cooling Type
Twin cooling
Refrigerator Feature
Number of Shelf (Total)
4 EA
Gallon Door Storage
2 EA
Shelf Material
Tempered Glass
Number of Vegetable&Fruit Drawer
2 EA
Reviews
Average Customer Ratings
| | | |
| --- | --- | --- |
| Overall | | 4.33 |
| Design | | 4.33 |
| Features | | 4.17 |
| Performance | | 4.17 |
| Value of Product | | 3.67 |
Submitted a year ago
By LoAl
From New Orleans
Reviewed at


I love my new refrigerator with the bottom freezer. It is so spacious and functional. It has so much space for all my food and drinks. The adjustable shelves give me options to arrange how I want. The ice maker is fast and efficient. The refrigerator and freezer have a good build quality and well designed.
Submitted a year ago
By Lunch
From Portland, OR
Reviewed at


2
Can't use drawer unless both doors open
you can't open the bottom drawer on the right side without having both doors open.
Bottom Line No, I would not recommend to a friend
Submitted a year ago
By Farias
From Dallas
Reviewed at


5
Excellent. Love a lot this is my best refrigerator
Want to have all my stuff samsung now, everything is easy to set up and in my house
Bottom Line Yes, I would recommend to a friend
Submitted a year ago
By JMac1175
From Las Vegas, NV
Reviewed at


Great refrigerator. Has been a great upgrade for me coming from my Whirlpool. Have been great with french doors and bottom freezer.
Bottom Line Yes, I would recommend to a friend
Submitted a year ago
By Jerpwall
From Mobile, AL
Reviewed at


5
Exactly The Right Refrigerator.
We purchased our Bispoke three weeks ago and we are in love. The ice is without a doubt the best feature on this refrigerator. I was concerned with having the ice in the tray of the lower freezer section but it has not been a problem.My wife is in love with the pellet ice. There is so much room inside this refrigerator and the adjustable shelving is perfect for making room for an oversized watermelon. The no handles design and water pitcher inside the door gives it a sleek and modern look. It also makes it easy to clean.
Bottom Line Yes, I would recommend to a friend
Submitted a year ago
By Anushik88
From Arizona, Glendale
Reviewed at


I'm lucky! 2 weeks ago I found the refrigerator of my dreams. It is big, beautiful, and there is a lot of space in it. Very convenient and most importantly, no fingerprints remain))) I am very happy
Bottom Line Yes, I would recommend to a friend
Submitted a year ago
By Greatguysd
From San Diego
Reviewed at


2
Not the best experience dealing with Samsung
The refrigerator looks nice, but it is deceiving. The doors on the refrigerator swing out about 3 inches beyond the hinges! If you don't have an additional 6 inches to spare, this is NOT the refrigerator for you. Samsung's customer service is mediocre at best
Bottom Line No, I would not recommend to a friend
Submitted a year ago
By gus99041
From Palmetto Bay
Reviewed at


Let me start off saying that I am upgrading from an older 4 door Samsung which overall I loved, but had icemaker issues. So when this opportunity came up I jumped right at it. This fridge is super sleek from the outside. There are no door handles, exposed icemaker, or water dispenser. All of these features are thoughtfully hidden away. The inside door hides a filtered pitcher of water that holds plenty! If you happen to use it all, it will refill in about 90 seconds. The icemaker is tucked into the freezer drawer and has 2 different types of ice! It has a larger square for maybe a cooler or water bottle, and then smaller nugget like for drinking! We are a big ice household, so this is a plus! Both the fridge and freezer have way more space! Samsung has thoughtfully made each are appropriate for certain items! This helps keep the fridge clean and organized. The freezer is big! Somehow it is bigger than my old one, and still has an ice maker inside! I would say my only complaint about it is that it sticks out a bit more than I would like. Although it is counter depth, the door is about an inch thicker than the door with handles so visually it takes some time to get used to. The trade off is space you can use on the inside of the door! Overall I am very pleased with this fridge in the short time that I have had it.
Submitted a year ago
By Bakerylayne305
From Miami
Reviewed at


My current refrigerator was going on 16 years and I was in the process of reading review after review to make sure I had chosen the perfect replacement. The entire process took just a few weeks and before I knew it, I had this beautiful, functional refrigerator. To begin, I love the sleek lines without exposed handles or an exposed water and ice dispenser. The filtered water pitcher inside that refills chilled water so you never have to sit there holding a glass or water pitcher. That to me is genius! Additionally, there is so much space inside both the refrigerator and freezer, even with the built-in ice machine. The two sizes of ice are perfect for any beverage and it even comes with its own ice scoop and a place to store it securely. Every day I am learning something new and wonderful about the Samsung Bespoke Refrigerator. I couldn't recommend this more.