36" Samsung 22.9 Cu. Ft. 4 Door Bespoke French Door Refrigerator - RF23BB8200QLAA
Read Reviews 4.71 (7)
Write a review
100% would recommend this to a friend
Price
$3,999.99
Savings
$900.00
Our Price

$

3,099.99

CAD

Or as low as $344.44/month over 9 months. Apply Now

36" Samsung 22.9 Cu. Ft. 4 Door Bespoke French Door Refrigerator - RF23BB8200QLAA
RF23BB8200QLAA
Literature
Designed for you, by you
A stylishly unique design
Ice your way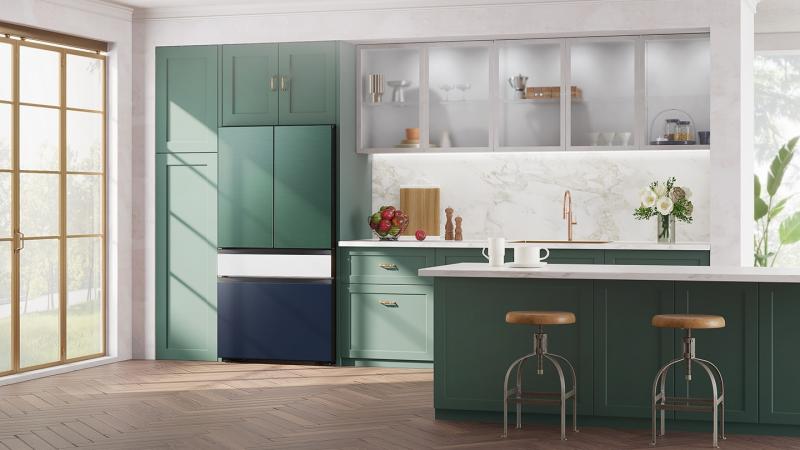 Designed for you, by you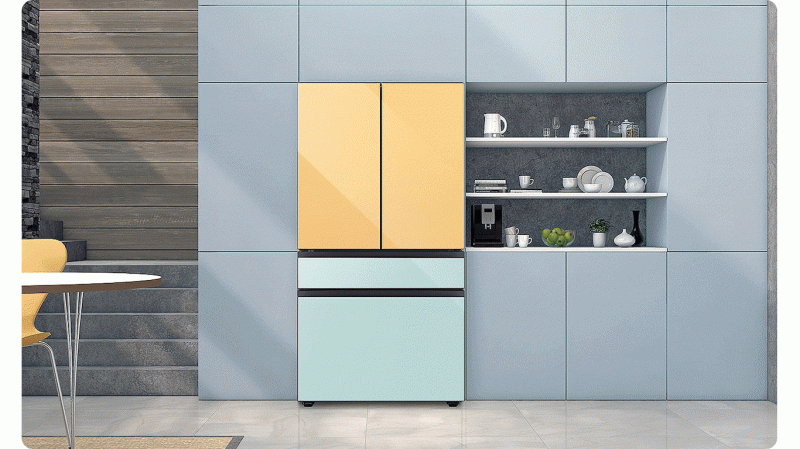 A stylishly unique design
Bespoke - Customizable Design
Create a beautifully stylish and unique kitchen space with a customizable design. It is available in a choice of 2 finishes: a premium steel, a stylish glass. And you can combine these with various door colors to suit your personal taste.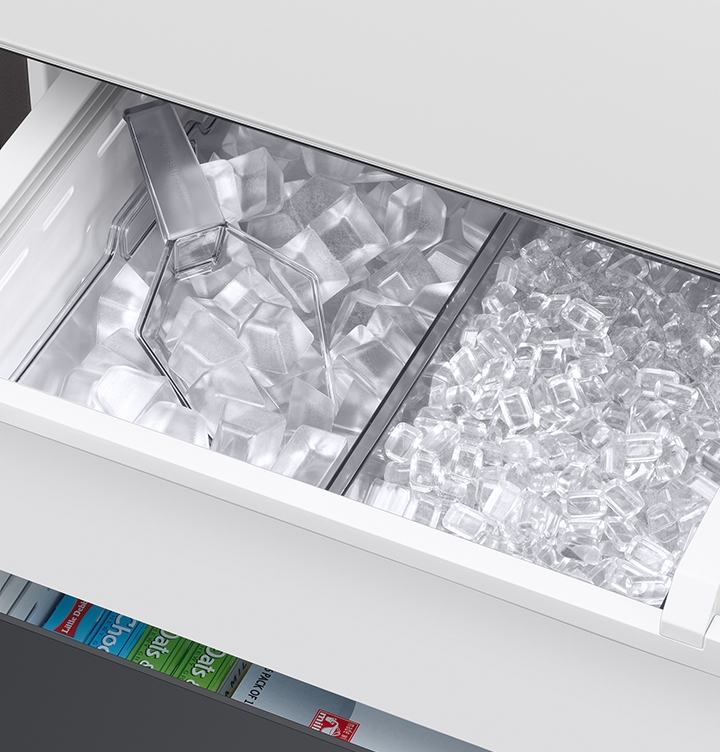 Ice your way
Dual Auto Ice Maker
Make sure you are always prepared for any occasion with two different types of ice. The Dual Auto Ice Maker makes both Cubed Ice and Ice Bites, which chill drinks much faster. It can make 5.3lbs of ice a day and store up to 9.9lbs*. And, as it's in the freezer, it frees-up space in the fridge.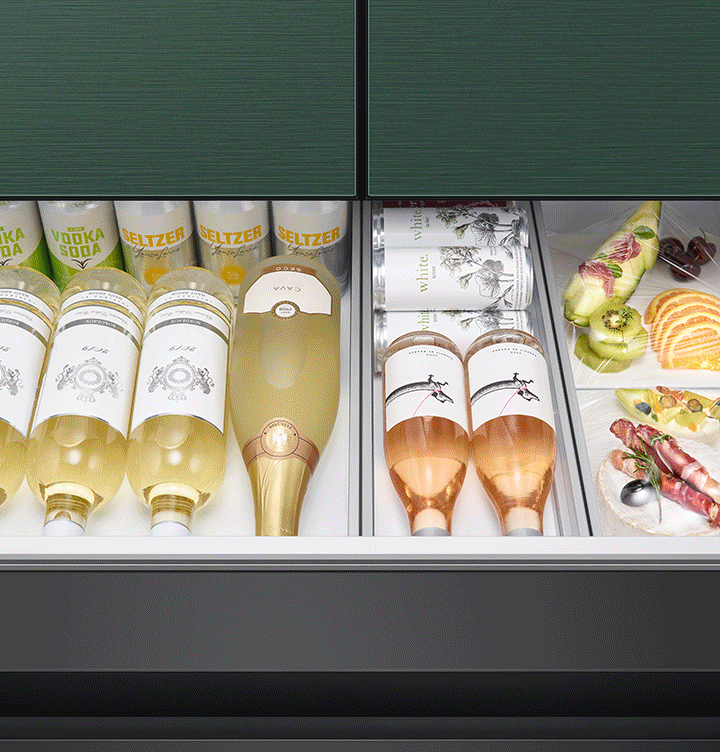 Flexibly preserve the freshness of food
FlexZone™
Keep different foods fresh and tasty in the optimal conditions. The FlexZone™ is an independently controlled compartment with five pre-set modes: Soft Freeze, Meat/Fish, Beverage, Deli, Wine*. There's also a Crisper+ with an airtight seal, so fruit and vegetables retain more moisture.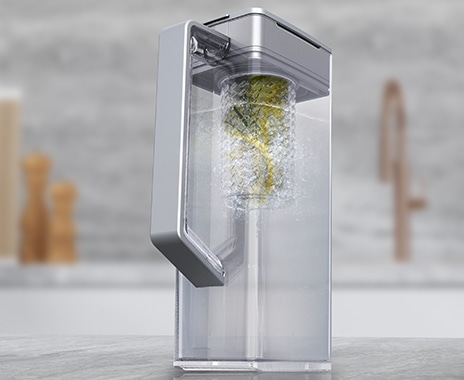 Autofill Pitcher
Enjoy refreshingly cold and flavored water immediately. The dishwasher safe* and BPA free** 1.4L (48oz) Autofill Water Pitcher automatically fills with purified water when put in the fridge. Using a built-in Infuser***, you can also add fruits or herbs to create deliciously flavored beverages.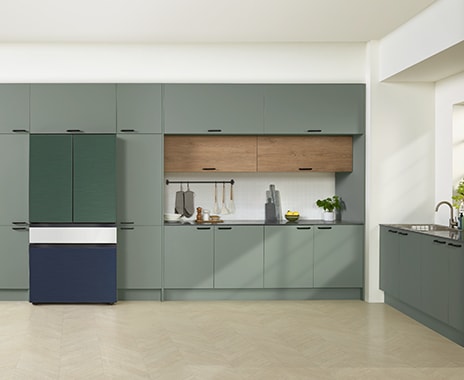 Built-in Look
Give your home a stylishly simple and sleek appearance. Its minimalist design is both neat and modern, but won't look out of place with existing appliances and cabinets. It has beautiful flat doors with no external water dispenser and recessed handles, which don't protrude and get in the way.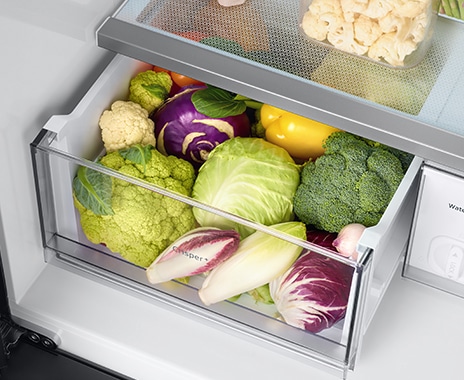 Big Veggie Box
Stop struggling to find space for the fresh food you use every day. The large capacity Big Veggie Box provides a convenient space to store lots of vegetables and fruit. So it is much easier to find everything you cook and eat regularly, without taking up space on the shelves or in your kitchen.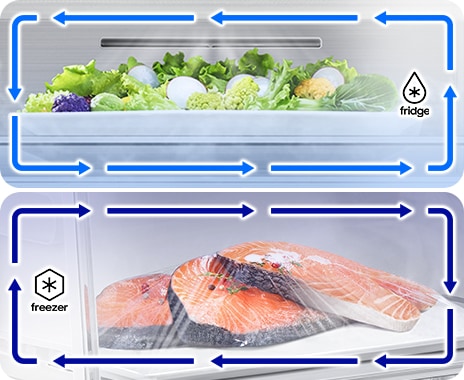 Twin Cooling Plus™
Twin Cooling Plus™ optimizes the temperature and humidity in the fridge and freezer using independent cooling in each compartment. It preserves fruits and vegetables in the best conditions and protects its natural flavor by preventing odors from mixing.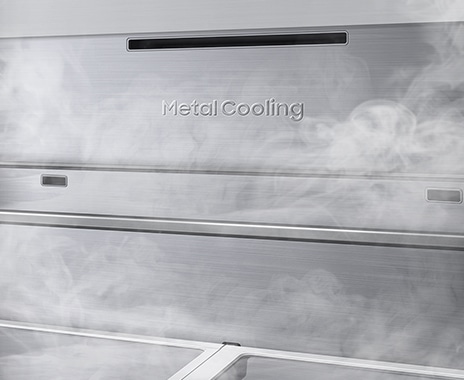 Metal Cooling
Maintain the optimal temperature inside the fridge. A Metal Cooling plate on the door and Flat Metal Duct retain the cold from the air and help to restore any heat loss quickly. And they add a premium look and are easy to wipe clean.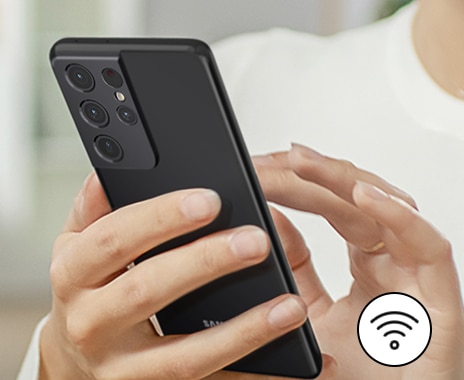 Wi-fi Embeded
Monitor and manage the refrigerator's performance anytime, anywhere using its embedded Wi-Fi and the SmartThings App*. You can control the Rapid Cooling modes, change the temperature and get alerts if the door is left open. You can also monitor its energy consumption and diagnose any issues.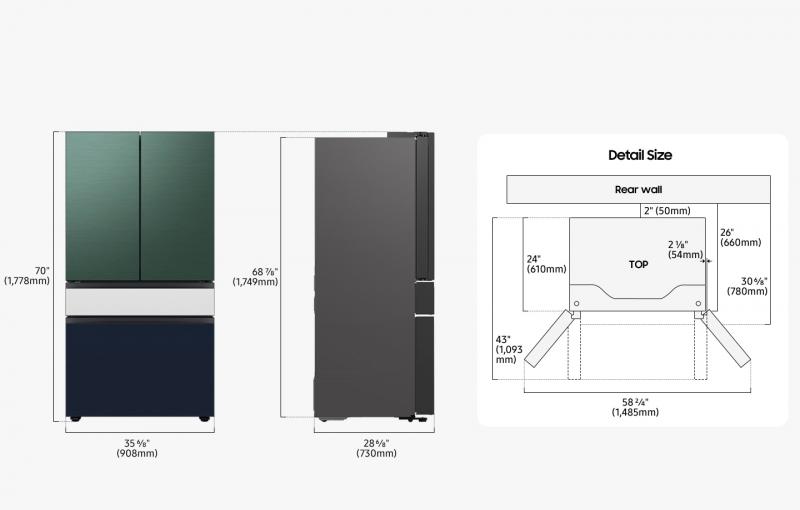 How to measure
Capacity
Net for Freezer (cu.ft)
6.8
Net for Mid-Drawer (cu.ft)
2.5
Physical specifications & size
Net Dimension (WxHxD)(inch)
35 6/8 x 70 x 28 6/8
Capacity
Net Total (cu.ft)
22.9
Physical specifications & size
Net Width (inch)
35.75
Net Case Height with Hinge (inch)
70
Capacity
Net for Fridge (cu.ft)
13.6
Physical specifications & size
Net Case Height without Hinge (inch)
68.875
Net Depth with Door Handle (inch)
28.75
Net Depth without Door Handle (inch)
28.75
Packing Dimension (WxHxD)(inch)
38 1/4 x 76 3/4 x 30 5/8
Net Depth without Door (inch)
24
Packing Weight (kg)
153
20/40/40H (Container)
14(20ft) / 30(40ft)
Net Weight (kg)
143
Cooling Feature
No Frost
Yes
Refrigerator Feature
Metal Cooling Duct
Yes
Cooling Feature
Cooling Type
Twin Cooling
Multi Flow
Yes
Refrigerator Feature
Metal Cooling Door
No
Gallon Door Storage
1 EA
Number of Shelf (Total)
4 EA
Shelf Material
Tempered Glass
Number of Vegetable&Fruit Drawer
2 EA
Number of Door Pocket
6 EA
Power Cool Function
Yes
Interior LED Light
Yes
Autofill Water Pitcher
Yes
Mid Drawer Feature
FlexZone
Yes
Divider
1 EA
Temperature Setting Mode
5 EA
Freezer Feature
Drawer Type
2 Tier
Interior LED Light
Yes
Power Freeze Function
Yes
Ice Making Capacity per Day (Cubed Ice)
2.7 lb
Dual Ice Maker
1 EA
Ice Storage (Cubed Ice)
3.3 lb
Ice Making Capacity per Day (Ice Bites)
2.7 lb
Ice Storage (Ice Bites)
4 lb
Ice Scoop
1 EA
Easy Open Handle
Yes
General Feature
Door Alarm
Yes
Refrigerant
R600a
Exterior Feature
Door Type
Bespoke
Door Handle
Recessed
Colour
SS Panels Pre-built
Performance
Energy Consumption
621 kWh/year
Energy
Energy Star Certification
Yes
Installation
Counter Depth
Yes
Smart
WiFi Embedded
Yes
Reviews
Average Customer Ratings
| | | |
| --- | --- | --- |
| Overall | | 4.71 |
| Design | | 4.83 |
| Features | | 4.67 |
| Performance | | 4.67 |
| Value of Product | | 4.67 |
Submitted a year ago
By lefty5feet
From Springfield
Reviewed at


5
Best Refrigerater EVER!
I love this refrigerator. It is beautifully designed and provides ultimate functionality. I love the Samsung brand and had no doubts I would be satisfied. However, I never knew I would enjoy having this refrigerator nearly as much as I do. We have been replacing our electronics with Samsung and are now replacing all appliances. I have had Samsung appliances in the past and this one takes the cake. It is so extremely spacious and the design makes it easy to store large amounts in so many ways. I think the flexible temperature drawer is genius!! We keep our meats in there and it is so much easier to store and find this way. The freezer is also huge and although it may sound very nerdy, we love the fact that it came with an ice scoop and a little space for it to lay. The refrigerator is designed in a way that allows for storing juices and milk as well as fruits and veggies so neatly. I highly recommend this refrigerator to anyone who is considering it. It is an absolute beauty aside from being a great functional appliance! Additionally, I love the auto-fill pitcher!! It is so nice to have this built-in feature!! Way to go Samsung, on building an amazing appliance!!!
Submitted a year ago
By shorehappy
From Long Branch NJ
Reviewed at


5
chillin' in style in Long Branch
-great price for luxurious value -more than enough storage space during recent holiday celebration -better layout of drawers and shelves than pricier brands -the design totally assists us in staying organized -inside water pitcher and ice dispenser operate so easily -grandkids were empowered to 'own it' in no time -stainless steel and black looks gorgeous with our other appliances -at first surprised that doors protrude from counter, but turned out fine -ordering and delivery happened fast, like clockwork exactly as promised -our new Samsung refrigerator feels 'Bespoke' (customized) for us
Bottom Line Yes, I would recommend to a friend
Submitted a year ago
By Lovebespoke
From Seattle, WA
Reviewed at


5
Aesthetic and full of features
This fridge does it all. It looks great and has all the features you need. It makes cooking a breeze!
Bottom Line Yes, I would recommend to a friend
Submitted a year ago
By Ilikebespoke
Reviewed at


I've had this fridge for about a week now and so far it's been great. There are a lot of features that makes cooking a breeze. The infused water pitcher is also very convenient and provides a nice spice to my water.
Bottom Line Yes, I would recommend to a friend
Submitted a year ago
By Cj york
From Arkansas
Reviewed at


Beautiful fridge ...love water pitcher feature! Sleek design
Bottom Line Yes, I would recommend to a friend
Submitted a year ago
By LoveSamsung
From Dahlonega, GA
Reviewed at


I bought our refrigerator online with Samsung on a Wednesday afternoon and it was delivered that Saturday! We got the French door Bespoke in navy stainless steel with the silver stainless steel drawer in the center. Absolutely gorgeous and HUGE!!! We still haven't been able to fill this this up! And we love the two types of ice and the refillable water pitcher! Just can't say enough good things about this appliance!!!
Bottom Line Yes, I would recommend to a friend
Submitted a year ago
By SamsungLuv
From Charlotte, NC
Reviewed at


4
Looks modern and stylish
Delivery was great and arrived before estimated time. Love how it looks and functions.It matches well with our kitchen and island.
Bottom Line Yes, I would recommend to a friend