36" Samsung 22.8 Cu. Ft. Bespoke 4-Door Flex French Door Refrigerator - RF23A9675AP/AC
Read Reviews 4.74 (42)
Write a review
100% would recommend this to a friend
Price
$4,599.99
Savings
$1,400.00
Our Price

$

3,199.99

CAD

Or as low as $355.55/month over 9 months. Apply Now

36" Samsung 22.8 Cu. Ft. Bespoke 4-Door Flex French Door Refrigerator - RF23A9675AP/AC
RF23A9675AP/AC
Literature
BESPOKE – Designed for you, by you
Easy access to fresh water with Beverage Center™
More ice with more choice - Dual Auto Ice Maker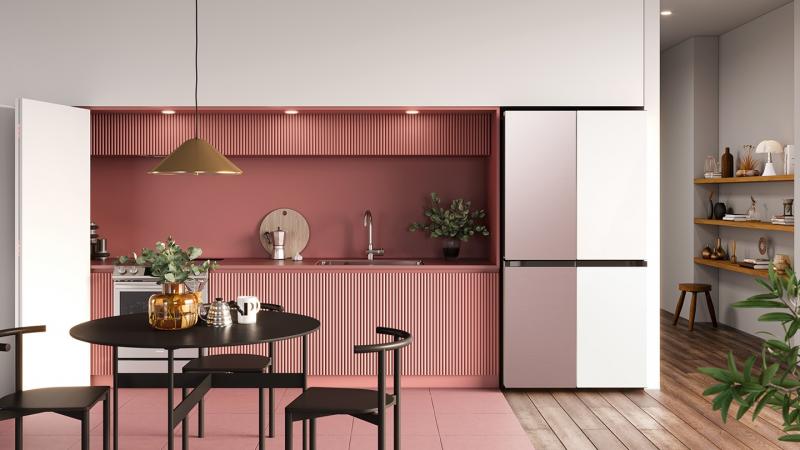 BESPOKE
Designed for you, by you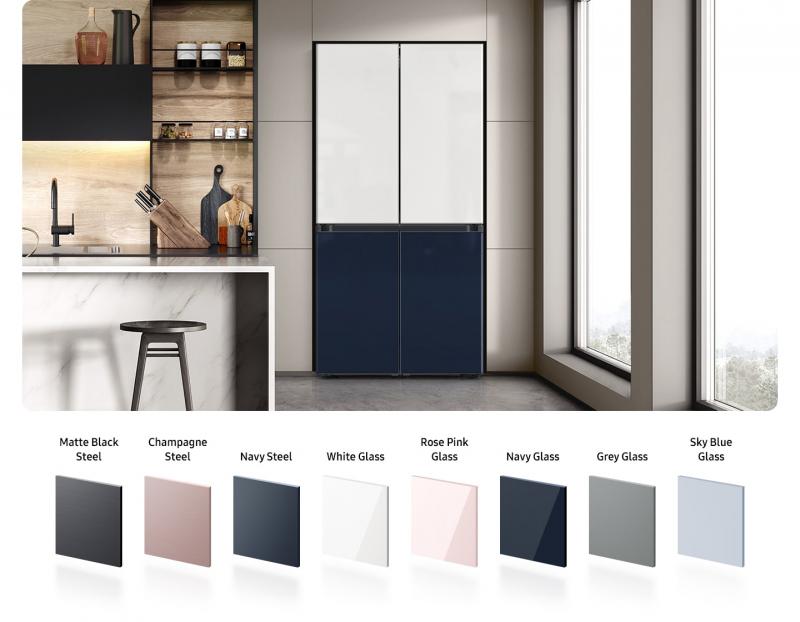 Your space, your style
Customizable door colours
Customize the design of your refrigerator with changeable door panels. Choose from eight colours and two finishes to create a space that fits your style, the options are endless.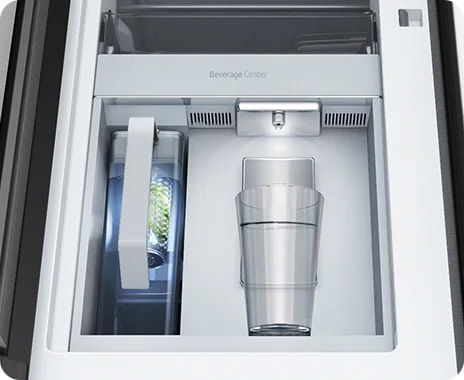 Beverage Center™
Enjoy fast and easy access to refreshingly cold and flavored water.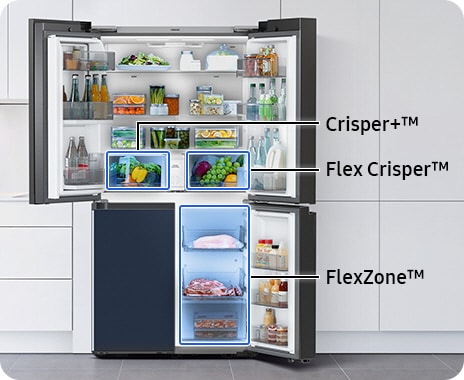 Flexible Storage
Keep different foods fresh and tasty in the optimal conditions.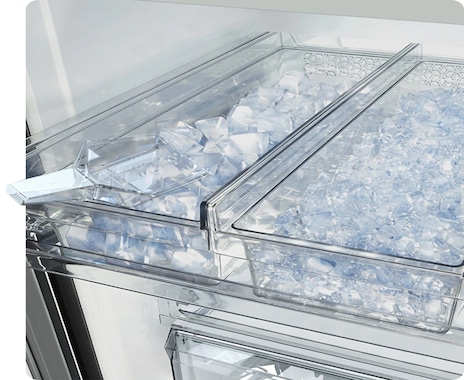 Dual Auto Ice Maker
Make sure you are prepared for any occasion with two different types of ice.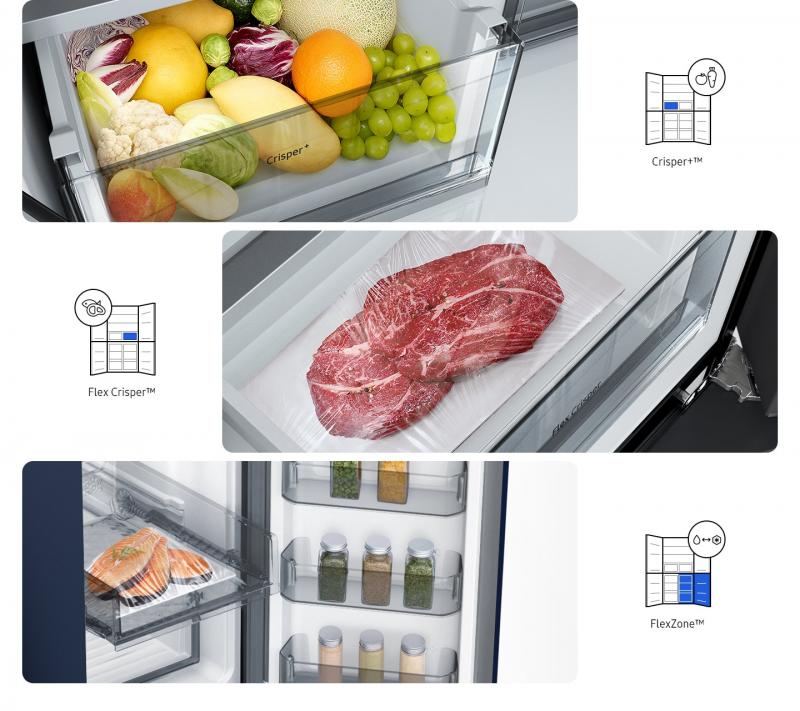 Store food in the right places
Flexible Storage
Keep your food fresh in the right places. The FlexZone™ is an independently controlled compartment with five different temperature modes: Freeze, Soft Freeze, Meat/Fish, Fruit/Veggies and Beverage. You can also store meat or fish in the Flex Crisper and fruits and vegetables in the Crisper+.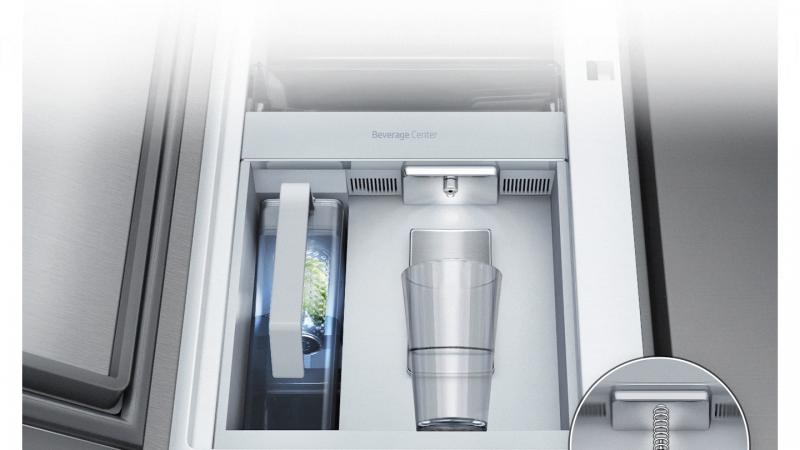 Press or Pour – water two ways
Beverage Center™
Enjoy easy access to fresh and flavoured water. The Beverage Center™ provides a BPA Free* Autofill Water Pitcher that fills up automatically and a regular Water Dispenser for easy access to a glass of fresh water.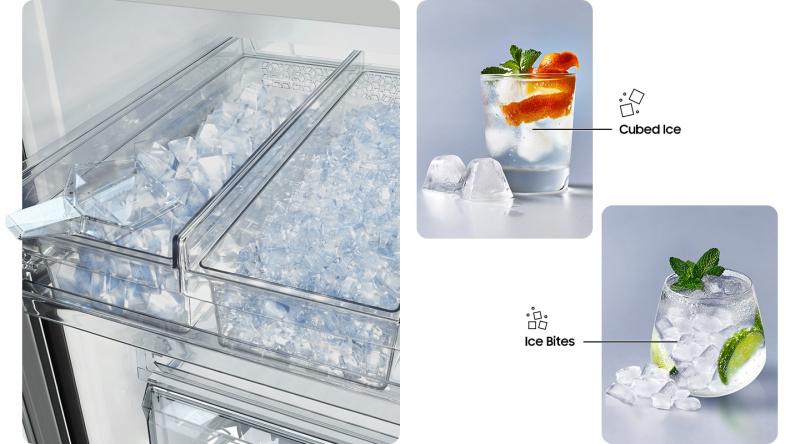 More ice with more choice
Dual Auto Ice Maker
Enjoy your favorite beverage with your choice of ice. Select from cubed ice or new nugget-style Ice Bites that chill your drink faster.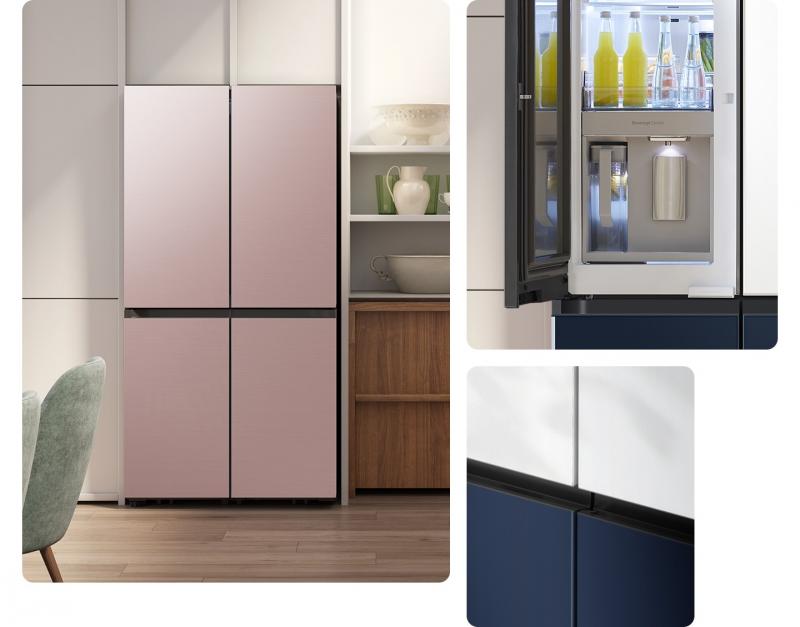 Clean Lines, Stylish Look
Modern Design
Give your home a stylishly integrated appearance. The new premium design features minimalist flat doors with recessed handles that give a sleek and neat look to your kitchen, easily blending in with existing appliances and cabinetry.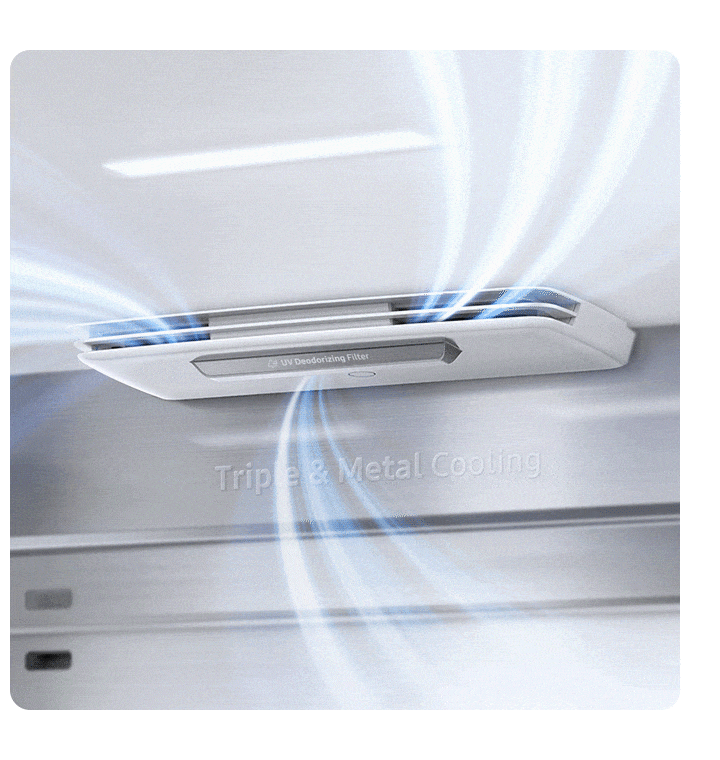 Fresh air in your fridge
UV Deodorizing Filter
Keep fresh air in your fridge everyday. A new built-in deodorizing filter reduces unpleasant odours. Also UV light in the filter system continuously cleans the filter to keep it clean all the time.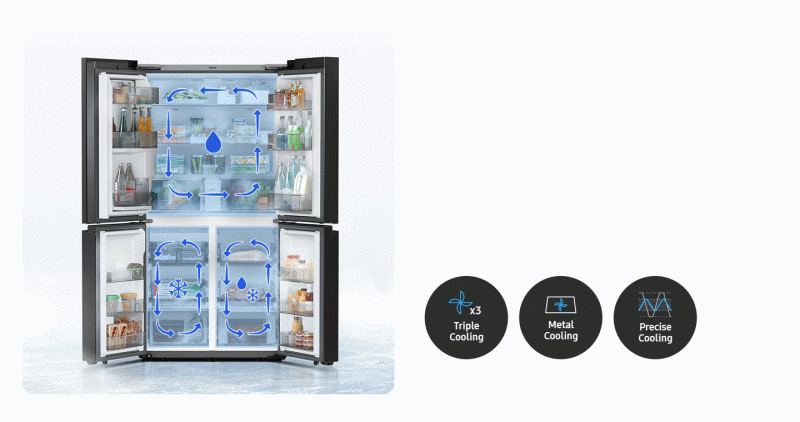 Keep your food moist and fresh
Triple Cooling + Precise Cooling + Metal Cooling
Ensure food stays moist and fresh for longer.* Triple Cooling system optimizes the temperature and humidity in the fridge and freezer with independent cooling. It preserves food better and protects its flavour by preventing odours from mixing. Precise Cooling system minimizes temperature fluctuation and the Metal Cooling plate efficiently reserves cool air inside the fridge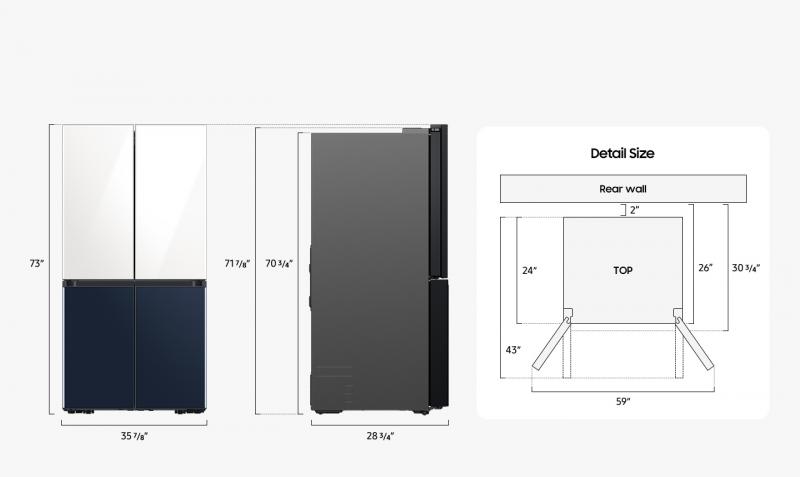 How to measure
Physical specifications & size
Net Dimension (WxHxD)(inch)
35 7/8 x 73 x 28 3/4
Net Weight (kg)
144
Net Width (inch)
35.875
Packing Dimension (WxHxD)(inch)
38 1/4 x 78 5/8 x 30 5/8
Packing Weight (kg)
154
Refrigerator Feature
Interior LED Light
Yes
Number of Door Pocket
6 EA
Number of Shelf (Total)
4 EA
Number of Vegetable&Fruit Drawer
2 EA
Shelf Material
Tempered Glass
Smart
WiFi Embedded
Yes
Specifications
Filter by Category
French Door Refrigerators
Physical specifications & size
Net Depth without Door (inch)
24
Net Depth without Door Handle (inch)
28.75
Net Depth with Door Handle (inch)
28.75
Net Case Height without Hinge (inch)
70.75
Net Case Height with Hinge (inch)
73
Performance
Energy Consumption
634 kWh/year
Installation
Counter Depth
Yes
General Feature
Door Alarm
Yes
Refrigerant
R600a
Exterior Feature
Dispenser Type
Beverage Center
Door Handle
Recess Handle
Display Type
ADA Display
Dispenser with Water Filter
Yes
Colour
Panel Ready
Energy
Energy Star
Yes
Cooling Feature
Triple Cooling
Triple Cooling
Capacity
Total Capacity
22.8
Net for Fridge (cu.ft)
14
Net for Freezer (cu.ft)
8.8
Bottom Right
Convertible Room (F)
-23~-15, -5, -1, 2, 4 °C
Temperature Control
Yes
Shelf
2 EA
Box
1 EA
Bottom Left
LED Interior Light
Yes
Shelf
2 EA
Box
1 EA
Reviews
Average Customer Ratings
| | | |
| --- | --- | --- |
| Overall | | 4.74 |
| Design | | 4.90 |
| Features | | 4.88 |
| Performance | | 4.74 |
| Value of Product | | 4.63 |
Submitted a year ago
By NikkiSamFan
From Summerville, SC
Reviewed at


4
Stylish and interchangeable!
I've had my Bespoke 4-door flex fridge for a little more than a month. So far I'm happy with it overall. I can change the panels to suit my needs. For example, when I think about painting my kitchen, I can change the panels on my fridge to blend with the color. I'm not stuck with one look. Currently my top panels are Tuscan and the bottoms are matte black. My counter top is a blend of browns and blacks so it goes well. My only complaints are in the beverage center, if the top shelf is push in place you can't get a gallon of milk out. I may have it in the wrong place but can't confirm because the instruction manual doesn't provide enough instruction based on MY model.
Bottom Line Yes, I would recommend to a friend
Submitted a year ago
By Ashy001
From Lathrop CA
Reviewed at


5
Best Bespoke Refrigerator
This seems to be a very solid and well built refrigerator/freezer combo or all in one Refrigerator only, your choice.I am very pleased in the evenly distributed coolness with each bin having their own vent. So far, so good, highly impressed!
Bottom Line Yes, I would recommend to a friend
Submitted a year ago
By moi22
From wappingers, ny
Reviewed at


bought this in navy blue to match my new blue cabinets - love it. especially like the 2 doors on the bottom, don't have to open the whole freezer for ice & the water dispenser behind the door panel, nice clean look
Bottom Line Yes, I would recommend to a friend
Submitted a year ago
By Von Will
From Virginia
Reviewed at


This is the best purchase I have made in a long time. It's so easy to keep items organized in this fridge. The beverage center is so helpful to have. Everyone comments on how beautiful it is and I tell them that it also works great. The 2 kinds of ice is a bonus. Don't hesitate to buy this! I bought the entire Bespoke set and I love all of it!
Bottom Line Yes, I would recommend to a friend
Submitted a year ago
By fridgeperson232323
From Redondo Beach, CA
Reviewed at


4
Great addition to our kitchen
We went from a smart fridge with a screen to this, and wondered if we would miss some of those connected/media features. But the reality is, we have so many devices around our house and in our hands, that it's nice for our fridge to just be a fridge again. Not sure if it was our contractor's fault or what, but the photos online make it look like this fridge can truly fit in flush with your cabinets, but they way it opens really makes that impossible. Not sure if other people have solved that, but that's the only bummer that it sticks out a bit when we really wanted it to be flush.
Bottom Line Yes, I would recommend to a friend
Submitted a year ago
By David S
From Salt Lake City
Reviewed at


4
Sleek design, great capacity!
Delivered last week and still working through the features! Love the design and capacity, though still playing with shelves to allow for tall bottles. Great purchase!
Bottom Line Yes, I would recommend to a friend
Submitted a year ago
By Bumblebee
From Wild West Arizona
Reviewed at


5
Fell in love at first sight!
We have had this fridge for just over 6 months now after we moved into our new home. The design is beautiful. I saw it in a Korean drama last year, I wanted it so bad. The beverage center is my favorite. The adjustable shelves are very helpful and roomy. Many colors to pick from, the glass panels are easy to clean and look great. The double freezers are perfect for my needs; one side keeps all ice cubes and eye masks, the other side keeps all frozen foods and pizza. Plus, shipping company did a good job to set it up for me and took away the old fridge. I have no complaints. You won't be disappointed.
Bottom Line Yes, I would recommend to a friend
Submitted a year ago
By Asagwali
From Rockville, MD
Reviewed at


5
Awesome Fridge - great features!
I got this Fridge just over a month ago after waiting for inventory to become available. This is my first Samsung Fridge - my TVs are all Samsung as well as our mobile phones. This Fridge is really cool and elegant and has transformed our kitchen given its very exquisite modern look, the glass panels and the 4 door combo. The Fridge is very technologically advanced and you can control certain features through a mobile App. My favorite in the Fridge ia the automatically refillable water pitcher! This is a very cool innovation that revised the water immediately you put back the pitcher. You no longer have to stand and wait in front of the Fridge for your glass to fill up! The water pitcher also has an internal pouch where you can place lemon, mint leaves or other fruit to get your flavored water at your fingertips!!
Bottom Line Yes, I would recommend to a friend
Submitted a year ago
By AGibney
From Branford, CT
Reviewed at


Great refrigerator, love the features. Everything I was looking for, smooth delivery
Bottom Line Yes, I would recommend to a friend
Submitted a year ago
By KimK22
From North Las Vegas NV
Reviewed at


5
Best refrigerator ever!!!
I was looking for the perfect refrigerator and I definitely found it! I chose the 23 cubic foot counter depth in Matte Grey Glass...it is awesome! It looks great, it has all the best features and it matches my cabinets in our new house almost perfect! It almost looks as if it's a custom fridge!
Bottom Line Yes, I would recommend to a friend